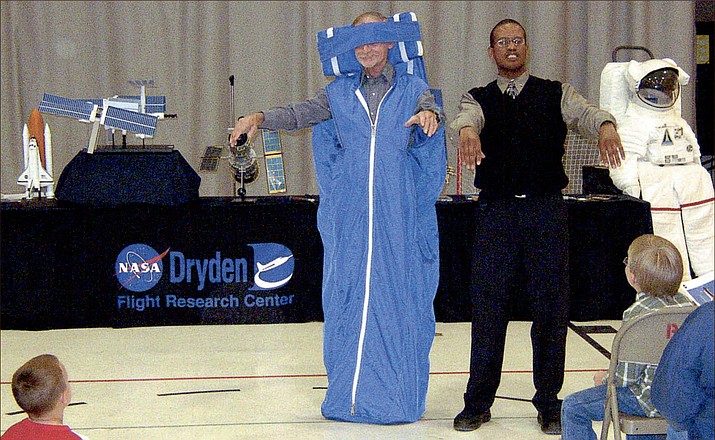 Originally Published: January 28, 2004 6:10 p.m.
Mick Bowen fired the imaginations of pupils Thursday at Black Mountain School during two presentations on the National Aeronautics and Space Administration.
In turn, the children returned Thursday night with their parents, filling about 130 chairs in the school's gymnasium for another presentation by Bowen on NASA's history and goals.
Bowen is an aerospace education specialist and is based at the NASA Dryden Flight Research Center in Edwards, Calif.
Last May, Black Mountain became one of 50 schools nationwide to be designated as a NASA Explorer School. Bowen said there 450 applications were received for the program.
"We got a $10,000 grant that will be used for technology," said Lisa McClure, a teacher at Black Mountain and leader of the school's NASA team that includes principal Scott Rhoades and teachers Teri Sietsema, Danyl Pierson and Patti Cummins. "We're getting videoconferencing equipment, CD-ROMs, and digital cameras. Once we have everything we'll be able to schedule video conferences with the International Space Station."
The grant money arrived in December. McClure added Black Mountain will be in the program for three years and will receive a grant for $5,000 in the second year and $2,500 in the third year. Teachers at Black Mountain will be able to receive a variety of teaching aids from NASA.
And what does NASA get in return?
"Many of their employees will be retiring in the next couple of years," McClure said. "They want to get kids more interested in science, math and technology, so kids will stay in school and go into those career fields.
"NASA targeted children in grades 5-8 this first year. They'll take 50 more schools next year and lower it to the fourth grade."
The audience viewed slides containing planetary and star images taken from space shuttles and the Hubble telescope before Bowen began his presentation.
Bowen opened by showing a scale model of the first airplane flown in 1903 by the Wright Brothers. He asked if anyone knew how long it stayed aloft on its maiden flight and several children answered "12 seconds."
"Do you think they could have done that if they hadn't made mistakes and encountered problems along the way?" Bowen asked.
The Dryden Flight Research Center does extensive research on different types of aircraft, some of which Bowen showed as scale models. They included the B-22 Osprey, a propeller-driven craft that can lift off vertically and rotate its motors for forward flight, and the SR-71, a reconnaissance-type plane now retired but once the highest and fastest flying of all aircraft, Bowen said.
Replicas of satellites that look down on the Earth, the International Space Station and space shuttle were other NASA technology items shown, along with the Boeing-777.
"NASA did not build the B- 777," Bowen said. "But it contributed to technology in making many things lighter."
Bowen demonstrated honeycombs made of a composite material. The audience could see through it when looking straight on, but not when it was held edgewise. It is light but strong at the same time, However, Bowen showed how durable it is by placing a piece on the floor, stepping on it and then holding it up for everyone to see it was undamaged.
Bowen went on to explain astronauts eat two types of food in space. Some items like macaroni and cheese are dehydrated and sealed in vacuum packs to which hot water is added. Other foods are military ready-to eat such as applesauce. Bowen held up a package and said kids love to eat creamed spinach. That remark drew a round of "oohs" from the children present.
Bowen noted that food in space has a sticky quality to it. That is necessary due to the weightless conditions under which astronauts live.
He also demonstrated how to don a spacesuit with help from fifth-grader Jesus Balbastro and sixth-grader Sharlee Pettee, and how to get into a sleep restraint with adult Gene Myer volunteering from the audience to slip into it.
The presentation concluded with Bowen fielding questions about NASA and space flight.
(This article originally published in the print edition of the Kingman Daily Miner on January 25, 2004)