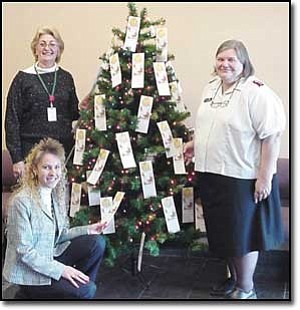 Originally Published: December 2, 2005 4 a.m.
KINGMAN ­ John Slaughter, range detective with the Mohave County Sheriff's Office, is on special assignment this Christmas season as coordinator of the department's Angel Tree program.
"This program is special because Christmas gifts are donated to children, provided by the public, whom otherwise may not have a gift to open at Christmas," he said.
The Christmas Angel Tree has been set up in the lobby of MCSO headquarters at 600 W. Beale St., in downtown Kingman.
Slaughter is asking the public for help in fulfilling his special assignment that puts a smile on the face of every child recipient of a gift. "We are starting the Sheriff's Office with over 60 names of children on the tree," said Capt. Susan Spousta of the Salvation Army.
Come and select an angel off the tree and drop off an unwrapped gift for that child by Dec. 15. MCSO personnel will deliver the presents by Christmas.
The MCSO lobby is open 8 a.m. to 5 p.m. Monday through Friday.