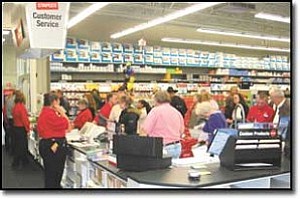 Originally Published: December 9, 2005 4 a.m.
KINGMAN ­ Office supply superstore Staples opened its doors for the first time Wednesday night, granting area business people a first, discounted look at the store designed to make their lives more efficient and economical.
Located at 3320 Stockton Hill Road in the Albertson's Shopping Center, Staples is a 16,000 square-foot cornucopia of everything office.
It features more than 7,000 different products on-site in addition to a selection of more than 25,000 different products available to order at any one of the "dot-com" stations placed conveniently throughout the store.
The key is convenience, many in attendance agreed.
"A lot of stuff we've been sending out for we can go pick up now," said Kit Merritt, owner of KGM Contracting, who perused the aisles Wednesday night with a shopping cart already filled with everything from an electric pencil sharpener to transparent tape and pencils.
Like many area business owners and employees, Merritt formerly ordered office supplies from the Internet or traveled frequently to Bullhead City or Lake Havasu City.
Suzanne McClintock, office manager at Kingman Animal Hospital, pushed a boxed-up printer down an aisle Wednesday night as a full-staff of around 20 red-shirted employees maneuvered through the considerable crowd.
"Normally I give the owner's wife a list but this will make things a lot easier," she said, adding, "She used to have to go to Bullhead City or order them."
One of the employees, snagged between errands, appeared proud of the warm reception enjoyed by Staples.
"We're on top of things. We got this thing flowing," said 18-year-old Nathan Wissinger, a senior at the north campus of Kingman High School, who joined the Staples staff around a week ago.
"We're putting more customer service into it."
General Manager Jim Litopoulos, now in his third year working for Staples, emphasized that point.
"People have been asking for us and here we are, ready to serve the community," the slim-built 24 year old said. "Our goal is to give the best customer service in Kingman."
He termed the relatively rapid construction of the new store, which took approximately four months, as "amazing."
"They've got building down to a science," he said. "The construction crews, many of whom are local, have been great."
Willie Smith, a painter with Sanderson Painting, which contracted the Staples job, sat by himself near the back of the store Wednesday night, enjoying a sandwich catered by Albertson's and appearing rather peaceful. For four months, he and many of his colleagues spent their days brushing and rolling paint onto both the interior and exterior walls of Staples.
They finished at 4 p.m. Wednesday afternoon.
"It was a long road," he said, a sandwich in one hand, a soda in the other. "I had to come in one more time and see how the people like it."
Hours at Staples are 8 a.m. to 9 p.m. Monday through Friday, 9 a.m. to 7 p.m. on Saturday and 10 a.m. to 6 p.m. on Sunday.
For more information, call 692-2125.