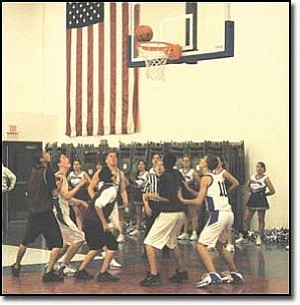 Originally Published: December 10, 2005 4 a.m.
KINGMAN ­ All of the passing, rebounding and defensive drills the Kingman Academy of Learning boys basketball team are doing in practice paid dividends on Thursday night.
The Tigers' unselfish and aggressive playing style helped them beat Harvest Academy, 91-20, in a game that was decided by halftime.
"It's kind of crazy because we either win big or lose big," KAOL coach Rob Nichols said. "We went to Phoenix this weekend and got killed by 24 and lost to Aha Macav by 37, so by doing this it's good for the team's morale."
KAOL (2-2) had four players in double figures and found points from 11 of its 13 players, running its offensive sets to near perfection and creating countless fast-break opportunities.
"Everybody has a role, whether it's as a scorer or a passer, but the bottom line is that they want to win," Nichols said.
With both wins coming by more than 30 points and both losses coming by more than 20 points, Nichols said his team's inconsistency is partially due to the talent level of their opponents and partially a result of KAOL's ability, or inability, to focus and not be intimidated.
"This proved to us that if we run our offense like were supposed to and play defense, we're in the game," he said.
Playing against an undersized and undeveloped Harvest squad, the Tigers built an 18-6 lead in the first quarter and extended their lead to 34 by the half.
Harvest managed only one basket in the third quarter and made the majority of its points in the fourth quarter from the free-throw line.
William McDavid led the Tigers in scoring with 18 points, with Forrest Standerfer finishing with 17 points. Matt Higuera added 13 points and Erick Proudfoot tossed in 11.
KAOL left two of its starting players on the floor throughout the second half, a move Nichols said he made to give his starters a chance to show the team they could be leaders
"I know if I had five freshmen, they couldn't handle it, and I needed leadership," he said.
KAOL's next game is its Homecoming game next Friday against Telesis.