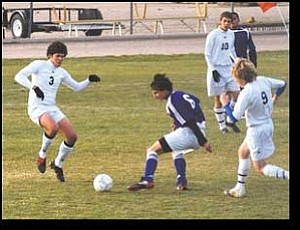 Originally Published: December 17, 2005 4:01 a.m.
KINGMAN ­ Trevor Whitecar spent a good part of the second half of Kingman's soccer game against Lake Havasu playing through the pain of taking a shot to the midsection.
The Bulldog defender dished out some pain of his own though on offense, scoring Kingman's only goal of the game and saving his team from losing its final non-region game.
But neither team left Thursday's game with a win. As instructed by its athletic director, Lake Havasu did not agree to play an overtime period, ending the game at a 1-1 tie.
At the end of regulation, both coaches met with officials and a Kingman High administrator to discuss if AIA rules included overtime play for schools from different classes (Lake Havasu is a 4A school and Kingman is in 5A). When both schools' athletic directors were telephoned and still disagreed on the rules, the game concluded in a tie.
"More than anything we wanted to go away with a win," Kingman assistant coach Ted Guerrero said. "We've beaten them before, so maybe we came in a little too overconfident."
Kingman's confidence showed early in the game, as the Bulldogs controlled the ball and took the first three shots of the game. But Lake Havasu made the most of its first scoring opportunity, scoring in the 12th minute of play.
Kingman's defense held firm throughout the second half, giving its offense a number of chances to tie the game until Whitecar found the far side of the net in the 56th minute off an assist from DJ Lehew.
"DJ sent a good ball up," Whitecar said. "The sweeper kind of fumbled up and I followed up on it and capitalized on his mistake."
The Bulldogs did their best to avoid what they assumed would be an overtime period, just missing on a corner kick when Tyler Stoddard's header sailed over the crossbar in the final minutes of the game.
Kingman (3-5-1) begins its region schedule on Monday at home against North Canyon. The Bulldogs went 2-3 at last weekend's Mohave County Tourney with wins over Lake Havasu and River Valley, and lost earlier this week on the road to Maryvale, 3-1.