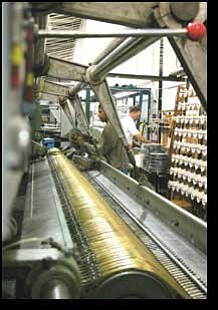 Originally Published: December 20, 2005 4 a.m.
KINGMAN ­ Worries that the flood of new residents pouring into the area will overrun employment capacity and choke the city's economy are unfounded, said airport economic director Bob Riley, who serves as liaison between the Airport Industrial Park and the bulk of Kingman's major employers.
"We're still exceeding growth," he reported.
"We're seeing a 10 percent population growth, but we're only seeing a one percent jump in the labor force," he explained. "The majority of people who are moving here are retired or aren't working."
The most recent available numbers regarding employment in the area, compiled by the city planning and zoning department, have Kingman's total labor force at 21,598. Of these residents, 21,083 are employed and 326 are unemployed, resulting in unemployment of 3 percent, well below the statewide average of 4.2 percent recorded in January and the national average of 5 percent recorded in November.
The primary economic engine driving these numbers is the Airport Industrial Park, a 1,000-acre tract of property with convenient access to Interstate 40 and the railroad, first opened around 20 years ago. It is now home to 72 different businesses, including manufacturers; distributors of goods; energy and materials; and service firms, including engineering and scientific companies.
Approximately 2,100 area residents, or roughly 10 percent of the Kingman labor force, is presently employed there. In addition, it accounts for around 80 percent of all manufacturing jobs in Mohave County.
"The Airport Industrial Park is actually better occupied and more intense than many industrial parks in Phoenix," Riley said.
The impact of the Airport Industrial Park on the local economy is profound. According to a study completed in September 2005, the value of direct output, measured as dollars of revenue, by Industrial Park tenants was $357 million in 2004. Their employees that year received $95.4 million in compensation, with earnings per worker calculated at an average of $46,335.
Outside of the Industrial Park, jobs in Kingman revolve primarily around retail, professional and service trades. The two main exceptions, Nurtibiotechnologies Inc., and the Wal-Mart Distribution Center have not yet been constructed.
Groundbreaking on the first, which will be to the southeast three miles outside of city limits, was scheduled for Dec. 9, with completion expected to take 18 months. At full operation it will employ 40 area residents.
Construction of the new distribution center, which will be located 14 miles south of Kingman on Interstate 40, will begin in the summer of 2006, and the center will begin serving the needs of Wal-Mart stores in the fall of 2007.
Upon first opening, it will employ 500 area residents.
"There is other industry looking at the Interstate 40 corridor, but no decisions have been made," Riley said. "There is certainly interest there."
As Kingman continues to expand, the Industrial Park will be a steadfast anchor of employment, Riley said. He said the Industrial Park should add around 100 jobs each year to the Kingman economy, which may be more than the labor force can support.
"We have to be realistic about the growth of this community," Riley said. "The people I've talked to have told me that it is getting harder and harder to find people and keep them."
Every sector of employment has been affected, he said.
"It's across the board. If someone wants a job out there, I'm pretty sure they can find it."
Because the approximately 500 unemployed residents in Kingman have so many job opportunities to choose from, a new problem has developed, said Beverly Liles, president and CEO of the Kingman Chamber of Commerce. Employers are having difficulty finding the caliber of employees they need and, if they do, they must contend with the added difficulty of keeping them on staff.
More like this story