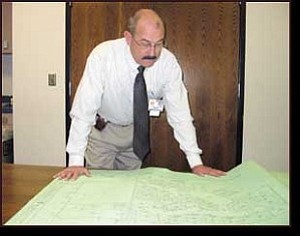 Originally Published: December 21, 2005 4 a.m.
KINGMAN ­ Officials at Kingman Regional Medical Center are sparing no expense in bringing state-of-the-art technology to the community.
Steve White, executive director of facilities and clinics, said in the past five years, the hospital has increased its bed capacity from 124 to 213, with 20 of those beds dedicated to acute rehabilitation.
"We've expanded our surgical capabilities by going from four suites to six, increased our recovery room capability, and have a dedicated endoscopy and cystoscopy suite," he said.
KRMC bought out Southwest Medical Imaging Center about three years ago to further increase its Magnetic Resonance Imaging and CT scan capabilities off campus.
A new medical imaging center under construction at Western and Sycamore avenues is due to open next June at a cost of about $5.5 million. The 13,000 square-foot facility will have a MRI machine with 3-Tesla magnet, double the size of the largest now operating at KRMC.
"The center also will have a 64-slice CT machine, which takes a fraction of the time to do a CT because instead of one body slice at a time, it will do 64," White said.
Women's imaging services will be expanded as well. More patients can be seen each day for such tests as mammography, bone densitometry and breast biopsies.
KRMC also is one of the largest employers in the community, with about 1,000 personnel.
White said ground is being broken on a new childcare facility on the campus for hospital employees that will be capable of handling 100 young children.
Future expansion being discussed includes additional administrative, radiology department, clinical laboratory, pharmacy and emergency room space. Increasing capacities for the cardiac catheterization lab also are being planned, White said.
He said the expansion plans should be approved early in 2006 and all work completed in three years.
"The hospital is keeping ahead of growth," said Dr. Donald Thomas, interim chief medical officer. "We keep an eye on demographics and needs of the community.
"It's the policy position of administration to provide whatever the community needs at the time it is needed."
Brian Turney, chief executive officer, was contacted and asked if there are any guidelines in place for building a second hospital in Kingman as far as population figures or other factors that might be taken into account in reaching such a decision.
"There is no standard number," Turney said.
"There is a hospital being built in South Mohave Valley and one is proposed in Lake Havasu. Typically, what we see in health care is two smaller hospitals (in the same community) tend to struggle because they can't offer some of the higher-level services."
"There are no set guidelines, so it's a matter of if someone feels it can be done."
The KRMC service area presently encompasses about 60,000 people, Turney said.
White said the hospital has spent roughly $40 million on expansion in the past five years, including purchase of Southwest Medical Imaging Center and construction of the KRMC Cancer Center.