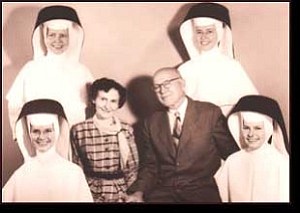 Originally Published: December 21, 2005 4 a.m.
By Mark Lewis
Miner Staff Writer
KINGMAN ­ Long before the Army Airfield Gunnery Base put Kingman on the map and Stockton Hill Road became the city's main economic avenue, Sister Madonna Marie Black lived in a sleepy, desert town of only a few thousand souls.
Born in 1926 to Mabel Van Marter Black and Arthur F. Black, a man who would play a large role in shaping the destiny of northwestern Arizona, Black grew up within walking distance of historic downtown before it acquired its present prefix.
After studying a stack of old family photographs with Black, it is clear that during her childhood Kingman was only a small fragment of its current self.
"There was no airport, no nothing," Black said across the table in her kitchen, which is tastefully decorated with Christian iconography and painted canvasses. "Beyond the cemetery, it was just desert."
"The community was real wonderful, not much different than it is now," she added.
Black's days in Kingman were numbered, though. Growing up in a house she described as a mix between a music conservatory and an art studio, song and stage ruled her early passions.
At the tender age of 15, she put her passions to good use as the director of the St. Mary's Church Adult Choir, a position she maintained until she was 18 and left to study music for one year at Georgian Court, a school for music in Camden, N.J.
Upon returning, inspiration struck unexpectedly in the form of a traveling troop of nuns. Taken by the flowing white habits of the Dominican Sisters of Adrian whom she met in Kingman, Black made a decision that effectively married her two greatest loves ­ God and music.
"I was going to make my life playing music on the stage, and then I got to thinking and praying," Black said.
Not long after, she was on a bus to Adrian, Mich. There she spent six months as a postulant, essentially a nun in training, followed by a one-year period as a novice or nun-in-waiting.
"In the beginning, it was very strict," Black said. "It was more like a cloister."
Her days in Adrian were also short-lived, though. Once recognized as a fully committed Dominican Sister of Adrian, her superiors put her to work spreading the gospel and her talents around the nation and world. Her first stop was St. Brendan's in San Francisco. The year was 1947, and she would not move on to her next assignment until 1965.
There she taught 4th grade and music and lived for 18 years with eight other sisters, including her real sister, Sister Rose Regina Black, for 12 years.
Of seven daughters, the Black parents produced four nuns, Sister Madonna Maria Black being the only one who never left the service.
From San Francisco, Black went to Santurce, Puerto Rico, where she served the "poorest of the poor" for two years. "I was like the pied piper," Black said, recalling how her music attracted the children to whom Spanish-speaking nuns would teach catechism lessons. "Some of the most beautiful, smiling people in the world lived there."
Then it was on to Detroit, where she served for two years during the infamous riots. "That was kind of nightmarish. There were tanks guarding the whole downtown area. Tanks, like war," Black said.
She next went to St. Petersburg, Fla., and then to Albuquerque, N.M. to be close to her sister Rose Regina Black, who at the time was in a Phoenix hospital fighting a battle with cancer that she would eventually lose.
While Black was doing her religious duty, her father, Arthur F. Black, was hard at work creating a successful area transit operation and influencing the direction of Kingman's initial expansion and development.
As the owner of the Boulder Dam Line, which ran routes from Phoenix, Kingman, Chloride and Boulder City throughout the 1930s, '40s and '50s, he mastered the available area roads of the time. Aware that improvements were needed and brimming with ideas, he played a key role as highway commissioner in planning Highway 93, Route 66 and Interstate 40.
"Because he had the buses, it was natural he should point out where the roads should go," Black said, adding, "He had the wisdom of the ages even when he was a very young man."
Black's father sold his business in 1958 and went on to become the Arizona highway commissioner from 1960-65.
A large portrait of him now hangs in the living room of Black's home, which is registered as a National Historic Home.
Now approaching her 60-year anniversary as a Dominican Sister of Adrian, Black currently resides in Kingman, a living link to a past the city wishes to maintain in the face of growth and urbanization.
"I remember everything so well. I can just see it in my mind," she said. "Right as of today, it's almost out of hand. I think they may be biting off more than they can chew or tolerate."
More like this story