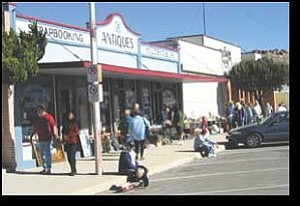 Originally Published: December 24, 2005 4 a.m.
KINGMAN ­ Explosive growth in the area is changing the face of the city, affecting every facet of commerce, including one of the area's most pronounced ­ tourism.
"Growth and tourism go hand-in-hand," said Staca Hiatt, director of tourism for the Kingman Area Chamber of Commerce. "We get a lot of people who stop in as tourists, love the area and decide they want to live here."
Though difficult to gauge precisely, tourism is measured by looking comprehensively at room tax revenue, visitor center counts, requests for information and Web site traffic, Hiatt said. All counts, collected through November, reveal increases, except for walk-in traffic at the Powerhouse Visitor's Center.
In 2004, 96,431 people went to the Powerhouse Visitor's Center compared to only 78,020 between Jan. 1 and Nov. 30, 2005. However, during the same period in 2005, Powerhouse staff mailed out 10,540 tourist information packets compared to just 5,646 throughout all of 2004, a possible indication of outside interest in relocation rather than visitation.
"We are attracting a different type of tourist at the moment," Hiatt said. "They are still visitors, but they are coming to check out our town and its real estate and are not the same as those on vacation."
Room tax revenue, the 2-percent additional sales tax added onto room rates at area motels and hotels, is posting record numbers. With the exception of the 2004-05 fiscal year, which proved to be the most profitable in Kingman history, the 2005-06 fiscal year is on track to beat out all previous years by a considerable margin.
In July 2005, for example, the city collected $31,127 in room tax, whereas two years earlier it collected only $19,693 during the same month.
Looking at year-end totals, a trend becomes apparent. In 2002, total room tax revenue increased 2.25 percent; in 2003, it increased 5.35 percent; in 2004, it increased 15.85 percent; and, in 2005, it increased 15.68 percent.
Ensuring these numbers continue to increase is the mission of the area Chamber of Commerce. Efforts to maximize the appeal of Kingman and lure in outside dollars have increased in the past few years, Hiatt said.
The current tourism budget at the chamber, for example, is $226,940 compared to just $190,522 in the 2003-04 fiscal year.
The vast majority of funds are given to the chamber by the city's Economic Tourism Development Commission.
A large portion of those funds is used for advertising, Hiatt said, especially on the Internet. The city's tourism Web site, www.kingmantourism.org, received an increased number of "hits" this year, averaging 411,000 per month compared to an average of 350,000 per month during the 2004-05 fiscal year. During the 2003-04 fiscal year, it received an average of only 200,000 each month.
"I think we're doing a better job getting the word out about Kingman," she said. "People seem to be discovering our neck of the woods."
Shannon Rossiter, director of the Route 66 Museum and Mohave Museum of History & Arts, reported steadily increasing traffic at both museums.
"Growth is good. It's great for us," Rossiter said. "It's picked up at least 5 percent a year. We've done much better."
In August 2005, which Rossiter said is a typical month, 1,340 people visited the Mohave Museum of History & Arts compared to 1,061 during the same month two years before.
"It's a great place to stop in the middle," Rossiter said. "As you see an increase in tourism, especially to the Grand Canyon, we get the residue from that."
Visitors on Dec. 6 hailed from Florida, Golden Valley, Kingman, San Diego, Las Vegas and Virginia.