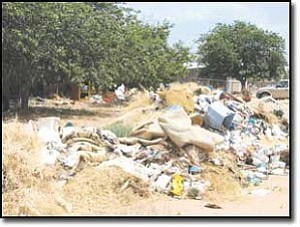 Originally Published: July 16, 2005 5 a.m.
KINGMAN ­ Mohave County Department of Health warned a Golden Valley couple in June to clean up their property and get rid of their trash or pay a fine of $1,000 a day. The mess is still there.
Mohave County Superior Court Judge James E. Chavez ruled on June 28 that the county no longer would tolerate the couple's mess in the 3700 block of Maverick Road in Golden Valley.
Mark R. and Sandra J. Morse failed to appear at their hearing after being ordered by the court to comply with the terms of a Mohave County Department of Health, Environmental Health Division compliance order to clean up "household trash and garbage from the property and deposit it with an appropriate landfill, and provide receipts documenting the amount and the date of disposal no later than 5 p.m. July 7."
As of Thursday morning, the Morses had made no progress toward cleaning their property, according to Dolores Milke, an attorney with the Mohave County Attorney's Office civil division.
Milkie said earlier that the property owner has a "tremendous accumulation of household trash, garbage and animal feces in his front and back yard."
Neighbors' complaints initially drew the county environmental health division's attention to the problem.
Ron Helfin has lived on Maverick Road for 19 years. He said the neighborhood was a wonderful place to live until garbage started piling up next door. "He (Morse) moved in three years ago. He had a sign in his front yard saying he was having a continual yard sale," Heflin said. "Planning and Zoning shut him down because that's illegal."
For a while, the Morse place was "a scrounger's paradise," he said. "There was a chair here and a table there. There was some pretty interesting stuff all over the place."
But, interesting soon gave way to irritating.
"You can see from here the window where they just throw their garbage bags out into the back yard," Helfin said, pointing from his yard to the Morses' residence and a mound of full, white trash bags beneath a boarded window about 30 feet away. "They don't even use the doors. They just climb in and out the windows."
"It's really a shame one person in the neighborhood has to wreck it for everyone," Heflin said. "Every time he moves a pile of junk, we get overrun with cockroaches. We never used to have bugs, and now I have to spend my money to get rid of his roaches."
Heflin also spent his own money to erect a chain-link fence between the two properties to keep the Morses' trash from blowing into his nicely landscaped yard.
Some of the other neighbors just got tired of the situation and moved away. Others would like to move, but have found their property values have suffered a big decline because of the neighboring eyesore.
Right across the gravel road, Ron Morris and his wife have a clear view of the mountain of trash in the front yard and more garbage piled in front of the main entrance to the Morse house.
"Every time the wind blows, his neighbors have to pick up his garbage from their yards," Morris said. "It has to be a health hazard. There are a lot of kids in this neighborhood and I worry about that mess making them sick. They catch the school bus right here at the corner, and they have to walk past his property to get there."
The county is looking closely at the worst derelict properties and taking definitive action to make property owners take responsibility for their garbage and extreme clutter.
"Environmental Health is not messing around anymore," Mohave County Environmental Health Manager Rachel Patterson said earlier.
"This case is an example of the aggressive manner in which the county is going to go after the most dramatic 'worst-case scenarios,'" Patterson said.
"We are working on turning this process into a science. By improving the process, we will shorten the timeline of solving individual problems. Ultimately, we hope offending homeowners and renters will clean up their problems before they lead to notices, court and fines," she said.
The owners were ordered to clean up their unsanitary premises on March 22 and received a notice to immediately abate the nuisance on April 25. A compliance order dated May 17 was sent by certified mail but returned unclaimed.
After the first health department inspection in March, Mark Morse bulldozed the trash in his front yard into a large pile and left it as a source of odor and flies, Milkie said.
Since the Morse couple didn't take action as court ordered, the penalty is $1,000 per day, with a maximum of $10,000 for each violation.
"I'm in the process of filing paperwork that will convert the penalties against them into a judgement against their property," Milke said. "That will allow the county to move in and get the place cleaned up."
Milke said the couple has 10 days to respond to the documents before the county can take physical action in the cleanup efforts.
More like this story