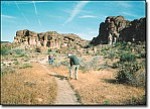 Originally Published: June 4, 2005 5 a.m.
KINGMAN ­ The Mohave County Trails Association is sponsoring a National Trails Day celebration Saturday at 8 a.m. at the Coyote Pass Trailhead of Monolith Garden, formerly known as Cook Canyon.
The event will also mark the formal completion of the 19-mile inter-connecting trail network; a joint effort between the city of Kingman and the Bureau of Land Management.
Trail Association members will say a few words then give away some prizes and goodie bags, according to Trails Association President Ann Seney.
The project, resulting in the completed network, began in the summer of 2003 through a Heritage grant from the Arizona State Parks, BLM Recreation Planner Len Marceau said.
The trail system includes the Camp Beale Loop, Castle Rock Trail, Badger Trail, and the trail loops in the area newly named Monolith Garden.
"We still have to work on utilities," Marceau said, indicating that the BLM intends to provide bulletin boards at the trailheads with interpretive education displays in addition to benches, visitor registry books and hitching rails for horses.
The trails are designed for hikers, mountain bikers and equestrians. Motorized vehicles are prohibited.
Volunteers from the Trails Association and laborers from the Mohave County Probations Department through the Yes (Youth Enjoying Sobriety) were responsible for most of the trail work, Marceau said.
Marceau said that though utilities at the trailhead will indicate which direction the trails go, it is still advisable to have a map from one of the visitor registers.
Participants for Saturday's event are encouraged to dress for the heat, bring water, and use sunscreen.
The Coyote Pass Trailhead is on the south side of Highway 93, coming into Kingman from Golden Valley.
Contact the BLM for more information at 718-3700.