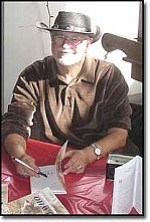 Originally Published: June 10, 2005 5 a.m.
I looked out my window at the speeding vehicle heading east on Interstate 40 Several police vehicles were in pursuit.
Actually I did not see any part of this bizarre incident that played out recently in Mohave County with several car thefts and the death of the culprit during a shoot out on U. S. 93 south of I-40.
The police have had difficulty finding an identity but have said he has family in Mexico.
Will his multiple identities and Mexican family ties eventually lead authorities to reverse the assumption that the man was a U. S. citizen?
In the meantime, they assume U. S. citizenship. The governor vetoed the bill that would allow police to detain and investigate illegals. In this case, the man is dead anyway.
About the same time, authorities arrested members of a drug ring in Scottsdale operating in the high schools. The Mexican drug smugglers moved in and out of this country and targeted the high school students in the richest section of the Phoenix area.
Yet, Arizona Governor Janet Napolitano vetoed virtually every bill on immigration passed by the current Arizona legislature. She and Attorney General Terry Goddard have used their executive positions to gut Prop. 200 passed by the voters of Arizona and stop efforts of the legislature to stem the flow of illegal immigrants into Arizona.
The governor blocked the legislature's plan to build a private prison in Mexico to hold the 3500 citizens of that country now housed in Arizona prisons for crimes committed in this state.
Not all those illegals are law abiding when they live among us.
She used the veto to:
• Kill a bill to require Arizonans to show proof of citizenship to register to vote.
• Kill a bill that designated English as the official language of the state.
• Kill a bill that would have banned local governments from using a Mexican issued consular card as identification in Arizona.
• Kill a bill authorizing Arizona police officers to investigate, arrest, detain or deport illegal immigrants.
Goddard wrote an opinion that took away the requirement passed in Prop 200 that would have required state employees to report applicants for state and federal programs that were illegal immigrants or could not provide proof of citizenship. The state continues to provide all kinds of benefits from medical care to education and including welfare.
Voters in Arizona passed Prop 200 with a 56 percent yes vote in 2004 while electing Napolitano governor and Goddard as attorney general.
Would they have won if voters had been aware that the two Democrats would gut Prop 200 and veto illegal immigration controls passed by the legislature?
Sixty percent of the voters in Maricopa County approved Prop 200. Hispanics were split with 47 percent voting in favor. That is amazing when one considers that some of the Hispanic voters were likely illegals voting illegally and that many of the U. S. citizens of Mexican heritage have family in Mexico that would like to immigrate or may already be here illegally.
My question is how this will impact the 2006 Arizona election for governor and attorney general.
Can Janet win again when the citizens of Arizona are at odds with her on the illegal immigration issue? Will her high spending habits and increased tax background and liberal views on other issues such as abortion and same sex marriage add to the voters that will oppose her on immigration?
The Republican legislature has developed a strong distrust of the governor during negotiations in the current legislative session. Would a more battle filled legislative session next year leading to the election in November 2006 election make Napolitano a loser?
Mohave County may have given a clue in the 2004 election cycle.
Liberal Republican Linda Bender resigned and left the battle for the Senate to our two House members. Ron Gould stepped in with a strong conservative agenda and beat them both.
That could be a bad omen for Napolitano in Mohave County, a Republican stronghold to begin with.
People I talk to are amazed at Napolitano's stand that protects illegal immigrants.
Many of them are lifelong Democrats that have seldom considered voting for a Republican. But, they would not vote for a Democrat with Napolitano's stand on immigration.
Somewhere in Arizona are one or more Republican candidates for governor that can defeat Janet in 2006 based on illegal immigration issues.
There will be more incidents in Arizona between now and then like the shootout on I-40 and the chase through Kingman.
There will be more incidents like the Mexican drug ring selling hard stuff to the high school students in Scottsdale.
A Mexican illegal shot a police officer in Denver and is now back in Mexico where we cannot touch him.
Another illegal is in jail in Oregon near my old stomping grounds for shooting and killing two local employers.
These incidents will be more and more obvious to us all by 2006.
Governor Napolitano and Attorney General Goddard are on the wrong side of the illegal immigration issue.
It should cost them both re-election in 2006.
That is the view from my window.
Marvin Robertson writes a weekly column for the Miner.