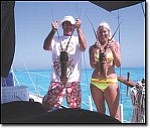 Originally Published: May 3, 2005 5 a.m.
KINGMAN ­ It wasn't exactly "Around the World in 80 Days," but Patrick and Lisa McVey wrapped up the adventure of a lifetime in June.
The couple and their female shorthair cat "Schmoe" departed San Diego in August 2001 aboard their 37-foot cutter rig sailboat "Sea Horse." They headed south to start a 15,000 nautical mile voyage that would end in Fort Lauderdale, Fla. three years later.
"I have sailed all my life and this was moving to the next level," Patrick said. "Lisa is the intrepid traveler with wanderlust."
Lisa's father loved to travel and took her at age 11 on a cruise from New York City to London. That was just the beginning of a journey in which she would visit Iran, Afghanistan, Nepal and India.
The McVeys spent about 18 months exploring Mexico, where they met and befriended Andrew Cleveland, another American. Cleveland owned a 38-foot sailboat.
"He was sailing to Australia and needed some crew help, so we buddy boated with him," Patrick said. "We stored our boat in El Salvador for four months and sailed with him to Costa Rica, the Galapagos Islands and west to the Marquesas Islands."
It took four days to reach the Galapagos from Costa Rica with the trio alternately manning the helm for three hours. They spent three weeks in the Galapagos, Lisa said.
The next leg of the voyage from the Galapagos to the Marquesas took 26 days, Patrick said. They continued sailing around French Polynesia until reaching Tahiti, where they parted company.
Patrick and Lisa flew back to Los Angeles and soon went on to El Salvador to pick up the "Sea Horse." They made an eastward transit of the Panama Canal in October 2003.
Over the next eight months, they visited the British West Indies. St. Martin, Guadalupe and St. Thomas were ports of call.
The "Sea Horse" is a cruise-ready boat equipped with autopilot, 40-horsepower diesel engine, refrigeration and water maker. While underway, Patrick and Lisa took three-hour turns at the helm and sleeping.
"Of the three years we were gone, I'd say we were underway about 150 nights," Lisa said. "That includes the 26 days from the Galapagos to the Marquesas."
Maintenance on the boat was the most difficult aspect of their voyage, Patrick said.
Certain types of stainless hardware parts ­ items not readily found ­ are required in keeping everything ship-shape.
But by staying in radio contact with other boaters and through word of mouth where they landed the McVeys were able to get the quality parts they needed and at good prices, including two support brackets fabricated for their engine in Mexico.
"We saved 10 years for this trip and spent money twice as fast as we expected," Patrick said.
The couple was as frugal as possible, eating meals on board and anchoring their boat instead of tying up at marinas, Lisa said.
"What we got out of the cruise was the sense of camaraderie our fellow cruisers have with one another," Lisa said. "Anytime you got in trouble or just needed a lift, people would stop to help and expect nothing in return."
Lisa was born in Columbus, Ohio, but grew up in Sedona. She works as a dental assistant. Patrick is a computer technician. He was born in San Bernardino, Calif., and grew up in Kingman. They married in June 1987 and moved from Odessa, Texas, to Kingman in February 1988. Sailing is their common love. But Patrick enjoys making home-brewed beer in his spare time, while Lisa likes to ride horses.
"I'd love to go someplace else, but I probably would not move back on a boat," Lisa said.
Neighbors is a feature that appears Mondays in the Kingman Daily Miner. If you have an interesting story to share, call 753-6397, ext. 225.