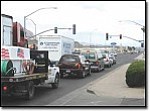 Originally Published: May 7, 2005 5 a.m.
KINGMAN ­ Traffic congestion on Stockton Hill Road may be lightening up because of a project now under way to re-sequence stoplights at the major intersections along the corridor.
City light technicians along with technicians from the Arizona Department of Transportation and a Phoenix-based consultant spent Wednesday and Thursday this week installing new clocks and adjusting the timing of the signals at certain intersections to lighten congestion moving down the north-south corridor, Community Development Director Dennis Roberts said.
Technicians will set controllers at each signal that will be adjusted to three peak periods, Roberts said. Peak periods range from about 7 a.m. to 9 a.m., 10 a.m. to 4 p.m., and 4 p.m. to 6 p.m.
The timing will be different at each peak, Roberts said.
"Hopefully, we'll see some improvement starting tomorrow," Roberts said on Thursday.
The city hired a traffic engineering consultant from Phoenix-based Lee Engineering who has worked in other Arizona corridors, Roberts said. To read story, see a copy of Friday's Kingman Daily Miner.