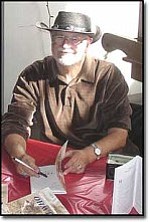 Originally Published: May 20, 2005 5 a.m.
I looked out my window mid-morning as I sipped my second cup of coffee wondering about retirement.
"When is retirement not retirement?" I asked myself.
"What does the hiring of Maurice Flores as superintendent of local schools have in common with the bankruptcy of United Airlines retirement program?" was my next thought.
And how does all this tie in with the efforts to update Social Security and add investment accounts?
Let me say right up front that I have no quarrel with Flores and wish him the best in his charge to lead the Kingman schools.
It is just that his retiring in Nevada and coming to Arizona to do similar work highlights one of the funding problems for retirement programs in this nation.
A few years ago, the country debated "double dipping" as people retired from federal, state and military positions and took additional jobs that led to more retirement income. That debate has disappeared.
Retirement is no longer retirement.
House Speaker Dennis Hastert said Social Security began with great demographics in 1935. Nearly 40 people contributed payroll taxes to support each retiree. The average lifespan was 62, and retirement began at 65. Hastert said those were numbers any retirement system could love.
Social Security deducted a dollar of retirement benefits for every dollar earned working after age 65 in those early days. Retirement meant not working for wages anywhere else.
No longer.
Now people live, on average, to 80 or more and can retire at 40 to 50. Many do just like Flores and take another job immediately. This is common across the spectrum of jobs that provide planned benefit programs.
The problem comes with funding retirement 30 years for people who worked for 30 years.
That is impossible to fund for private or public employers.
United is just one of many airlines that have not been able to meet promised and unrealistic planned retirement program promises.
California is one of the first states running against this reality. Unions that are protecting employees have stymied the governor. The unions are not steelworkers, auto builders or any other private-sector employees.
They are teachers, state and local government workers, policemen and firefighters. These public employees also vote and have used political influence to keep salaries and benefits intact.
But even limited tax dollars and longer lives are as much a reality for workers in public jobs. Can we continue to fund retirement that doubles the cost of employees because we pay them for not working for 30 years after paying them for 30 years of work?
Kingman added about $1 million to the city budget to be sure retirement was funded. Schools all across Arizona did the same. Detroit pays $200 million per year for retirement of teachers no longer in the system.
That makes it more difficult to pay today's staff more money. San Diego now owes their retirement system $1.5 BILLION to bring the system out of bankruptcy.
Such programs cannot continue, and many employees are going to face the bankruptcy woes along with the employees and retirees from Bethlehem Steel, Kemper Insurance, TWA, Eastern Airlines, etc.
IRAs, 401Ks and private accounts for Social Security are steps toward giving everyone some control over their own retirement funds. President George Bush calls it "ownership."
House Ways and Means Committee Chair Bill Thomas, R-Calif., is holding hearings on Social Security that include the broad retirement issues that stem from people living longer.
Living longer and remaining in good health is a good thing. I know of no individual that wants to solve these problems by reducing life expectancy to 62 as it was in 1935 when Social Security was started. I know of no one who wants to eliminate other retirement programs.
But we must face the demographic facts dictated by longer life and better health. We are just sticking our collective heads in the sand if we ignore the changes in life dictated by longer life.
The automakers are apt to follow the steel industry and the airlines into bankrupt retirement programs. How long can GMC and Ford compete with Nissan and Toyota when retirement costs add more than $2,000 to the cost of manufacturing each auto? It is our children and grandchildren who will have to pick up the pieces. Only one or two of them will be working to support one of us in retirement.
That is a huge change from the nearly 40 workers per retiree back in 1935.
I am sure those two will not make enough income to pay my retirement plus provide savings to pay for their own old age.
May they be kind to us if we do not solve this problem now.
Marvin Robertson writes a weekly column for the Miner.
More like this story