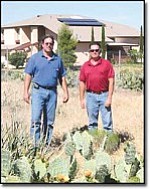 Originally Published: May 21, 2005 5 a.m.
KINGMAN ­ With 25-30 percent growth nationwide, the future for the solar power industry is bright.
Solar power is becoming more affordable to homeowners due to more efficient solar panels, tax incentives and utility company buy-downs, according to Tom Hanson, vice president and technical advisor at Tucson Electric Power.
Properly installed solar power systems pay for themselves in 10-15 years. "We have panels that have been out there for 15-20 years with no problems," said Corey Johnson, owner of C&R Solar of Kingman.
A problem developed early on in the solar industry when the government gave homeowners big tax breaks. Many of the systems installed at that time failed because opportunists jumped on the bandwagon with enthusiasm but without knowledge or training in solar-power installation.
"About 30 contractors came and went. They were in it for a quick buck and did not provide quality," Johnson said
Rebates and tax credits are just some of the primary motivating factors for considering solar power. UniSource will give up to $2.70 rebate per watt per customer, which could amount to more than $3,000. This comes in the form of a check from UniSource after an application has been submitted and UniSource completes an inspection. The process typically takes a few weeks.
The first $5,000 of the cost of a solar power system is not subject to sales tax, and there is no tax on labor.
Arizona allows an income tax credit of up to $1,000 for those with solar energy.
An individual who owed $1,000 in state taxes but installed a solar system in their home would find their taxes due would be credited after they filled out the required form with the state.
After adding up the incentives, it comes to a savings of about one-third of the total cost of a system.
Writing to state representatives requesting further incentives for installing solar panels could be effective in obtaining even more.
"We need to look at renewable energy. Within 10 years, costs will drop. There are dozens of manufacturers. More incentives will be the key to more growth in the industry," Hanson said.
Living in the Southwest means an abundance of sunshine, an ideal climate for producing solar power. Arizona averages more than 230 sunny days per year.
Johnson said systems are custom-designed to meet homeowners' needs.
The affordability of a solar power system becomes obvious for homes far from a public power source. Running power lines for long distances can be cost prohibitive.
There are various types of solar power systems, but remote systems are by far the most popular.
Trackers, devices that rotate the photovoltaic modules to follow the sun, sometimes are used to gain maximum performance from solar power systems.
Using a tracker lowers the number of solar panels needed and lowers the initial cost. The life expectancy of modules is about 30-35 years, according to Johnson.
PV modules made in the US are being sold overseas, mainly in Italy and Germany.
"The Europeans are way ahead of the U.S. in seeking clean energy," Johnson said.
Grid-tie systems are installed in conjunction with public utilities for homes that are hooked to public electricity but use solar power as the primary source of energy production.
Modules are constantly becoming more efficient, Johnson said. Two types of panels available from C&R are Sanyo and Sharp high efficiency modules.
He recommends starting by designing and building an energy-efficient home, and hiring experienced, licensed contractors to ensure maximum efficiency of a solar system.
For additional information on solar power, Tucson Electric Power Co.'s Web site is www.greenwatts.com. C&R Solar and Signs can be reached at 757-7059.