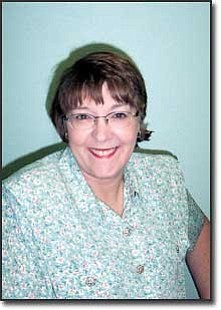 Originally Published: November 19, 2005 4 a.m.
KINGMAN ­ Doris Goodale has more work ahead of her than her current duties as president of the Kingman Unified School District Governing Board.
Gov. Janet Napolitano named her to the School District/Redistricting Commission. The commission was created when Senate Bill 1068, sponsored by Sen. Linda Gray (D-Glendale), passed the 47th state Legislature and was signed by Napolitano on April 25.
The commission officially begins work Jan. 1, 2007, although a get acquainted/orientation meeting was held in Phoenix on Nov. 10. Goodale is the only school board member among the 13 members on the commission.
"We were given information from the state superintendent's office, which will provide a liaison to provide research and other data," Goodale said. "The initial meeting was to go over educational terminology about what is a unified, consolidated or common school district. We also were given a list of all school districts and their student populations."
The commission will examine every school district in the state not currently in a consolidated or unified status. Its members will look at funding available to aid elementary, middle and high school districts in unifying or consolidating as a means to trim education costs.
The commission is to complete a preliminary report by April 30, 2007. School boards affected by the plans must finish a review of the report and submit comments to the commission by July 30, 2007.
"I'm honored to be part of this commission," Goodale said.
"However, my largest concern is that education is not meeting all the needs of people in the community and what standards the state believes it should meet. How are children being prepared for the workforce? Why are some not succeeding in schools in areas of testing and curriculum?
"This is the first time someone has prevailed outside education for forming a committee to reshape education. This to me is a big message from many people that education is not fully responsive as to working with other groups in modifying and changing our education system."
Panfilo Contreras, executive director of the Arizona School Boards Association, recommended Goodale to the governor from among six candidates considered for inclusion on the commission.
"We looked at two people from boards that have gone through the unification process and another individual whose district considered and chose not to go through it," Contreras said. "I chose Doris because of her more recent experience for bringing districts together and knowing what the problems are. That perspective should be very helpful to the commission."
Goodale served as a member of the Kingman Elementary School District Governing Board before that district merged with the Mohave Union High School District on July 1, 2001, to become the KUSD.
Getting someone on the commission was about as much as Contreras could do.
"The ASBA is not in favor of a commission telling schools and districts how they should be organized," he said. "The local community should make those decisions.
"At least one proponent for the commission is touting the opportunity for money savings. But people in Kingman know there is no savings, and in some cases, it costs more to put districts together."
Four of the commission members are appointees of the governor's office. The other three include a certified teacher, school administrator and an at-large community member, according to Dora Vasquez, director of the office of boards and commissions in Napolitano's office.
The president of the state Senate and speaker of the state's House of Representatives each appointed four members to the commission. A call to Gray's office Thursday seeking the occupations of those eight commission members was not immediately returned.
The state superintendent of public instruction chose the 13th member. Amy Rezzonico, press secretary in Tom Horne's office, said his appointee is the Department of Education's legislative liaison.
Another meeting of the commission will be held in mid-December and a scope of work for members should be ready then, Goodale said.
Commission appointments are for two years, she said.
"We're going to evaluate where it would make sense for neighboring schools to unify to get an aligned curriculum based on the perspective that it could lessen the cost of administration if schools unify," Goodale said. "Whatever administrative costs are saved could then be re-directed into classrooms."
The bill stipulates that county school superintendents in districts affected by unification plans call for an election of all qualified voters within the proposed boundaries of the proposed unified district in the next general election to adopt those boundaries. An information pamphlet would be sent out to all eligible voters in the affected district no later than 35 days before the election.
The cost for any such election would be paid by the affected school districts, whether or not voters approve or reject the unification plan.
More like this story