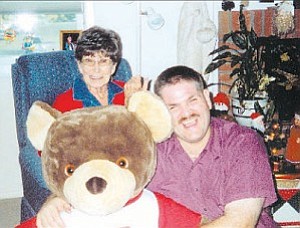 Originally Published: October 23, 2005 6 a.m.
LAKE HAVASU CITY – On a sparkling autumn morning nearly a year ago, Michael Judge decided it was time to start his life over, but he was unaware of how short that new life would be.
Sometime in the hours before, he picked up a microrecorder and left a message telling his mother he was leaving Lake Havasu City for a new life. Judge, 34, had complained that his job wouldn't allow him to advance, and that he wanted to start over somewhere else.
Just after noon on Monday, Oct. 25, 2004, Judge argued with his mother, Jackie Parrish, at The Home Depot on State Route 95.
Carrying a handgun, his only real possession after a brain injury led to years of rehabilitation and dependence on family resources and Social Security, Judge left his mother and began walking north along the highway, facing oncoming traffic.
Distraught, Parrish called police, begging them to help her son. A few minutes later, three Lake Havasu City police officers confronted Judge on the highway and ordered him to drop his weapon. Judge, a very large man who stood well over 6 feet tall and weighed about 350 pounds, refused and reportedly raised his weapon toward the police.
The officers confronting Judge fired their weapons either nine or ten times, hitting him four times, ending his life.
• • •
About a month prior to Judge's death, Parrish left on a trip to visit family. It was during this time that Judge found out that his Social Security benefits might be discontinued.
After she returned home the weekend before the shooting, Judge and Parrish argued about his future.
Although she had no clinical evidence to prove it, his mother believed that Judge was depressed. She asked him to go see his doctor.
On Monday morning, Oct. 25, Judge dressed in gray pants and a dark coat, put his pistol, a Norinco model 1911 .45-caliber semiautomatic handgun, into its holster and attached it at the right side of his waist. The gun was loaded and in full view. He walked out the door, leaving all of his money, car keys and identification behind.
On a microcassette, he left a message for his mother taped sometime between Sunday night and Monday morning. The message found by police when they searched Judge's apartment after his death said, in part, "This decision I've made for me. I just don't like it here anymore. I don't like the opportunities that I've tried and tried and tried to succeed, to grow, to advance. I can't do that here."
Judge went on to complain that there was no future for him at his job and that he was being pulled "eight different ways."
"I don't know where I'll go," said Judge. "I don't know where I'll sleep. I don't know where I'm going to get my next meal. I don't know anything coming up, the future has not been written."
Judge talked more about family issues and told his mother to do whatever she wanted with his clothing and possessions, noting that she had paid for it all anyway. Judge's mother didn't hear this taped message until after her son's death.
• • •
Parrish first became worried about Judge on that autumn morning after he called his grandmother about 8:15 and abruptly told her "goodbye." She went to his apartment to find it deserted, and Judge's car, a dark green 1995 Suzuki SUV, parked out in front.
Parrish then called police just before 9 a.m. to report her son missing, and the dispatcher assigned officer Jacob Bekkedahl to the call. Bekkedahl obtained a photo of Judge and put out an "Attempt to Locate" about him that went out to all LHCPD officers in the field and the Mohave County Sheriff's Department as well. Bekkedahl also entered Judge into the FBI's National Crime Information Center as a missing person.
Parrish told police that Judge had been depressed, but did not say if he had a gun.
Although officers didn't locate Judge at that time, several other people saw him around town. He stopped briefly about 8:15 a.m. at his workplace, the Alex Ross State Farm Insurance office on McCulloch Boulevard, where co-workers reported Judge entered the office briefly, but left after only a few minutes. His next reported sighting was later that morning at a convenience store where an off-duty sheriff's deputy noted that Judge was armed.
However, carrying a gun in its holster is not illegal in Arizona and the deputy reported that Judge was making no attempt to hide the weapon.
• • •
At about 12:30, Parrish received a call from Judge. He told her he was at The Home Depot and that he needed help. Parrish drove out to talk to him.
While standing in the store parking lot not far from the stoplight on State Route 95, Parrish said they argued about what he wanted and that Judge was determined to leave town, which she offered to help him do if he would just wait long enough to see his family physician, Thomas Wrona, who declined to be interviewed for this series.
"He was so focused," said Parrish in an interview conducted earlier this month. "There was this tunnel vision. At that point, I think he thought he would die if he went back into town."
Parrish said she told Judge that she would drive him anywhere he wanted to go, but that he needed to see his doctor first. Judge refused, pushing his mother away. He began walking up the road. It was at this point that Parrish saw the gun.
Jack and Jeannine Harrington, Lake Havasu City residents, later reported to police that they were leaving the Home Depot parking lot when they saw Parrish pleading with Judge to come with her.
The Harringtons said they saw Judge push his mother away forcefully. As they drove away, the Harringtons said they could see the gun in its holster riding on Judge's right hip.
Upset and scared, Parrish dialed 911 at 1:02 p.m., begging police to help her son and telling them about the gun. "Don't hurt him, he's sick," she pleaded.
Three police officers raced out to the scene as Judge continued his trek into the desert.
Less than 15 minutes later, Judge's journey would end in gunfire.
• • •
Coming Monday
Officers respond to Jackie Parrish's call, confronting Michael Judge as he walked north out of Lake Havasu City along State Route 95.