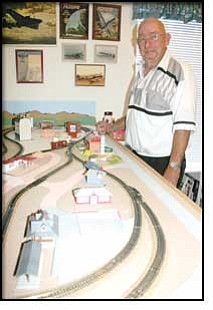 Originally Published: October 25, 2005 5 a.m.
KINGMAN ­ Robert Finn was browsing through the train department in a Phoenix hobby shop five years ago when something caught his eye.
"It was a colorful Amtrak engine that I bought and brought home," he said. "Marjorie (his wife) asked, 'What else do they have?'"
"I said, 'Let's go check it out.' I bought four 9-inch sections of track, a depot, water tower, signal and a couple of trees."
Finn has kept track of his model railroad purchases since that first day on Oct. 7, 1997. He spent $30.39 on the Amtrak engine and after adding the accessories the same day he had invested $47.72 (including the engine) in what would become his hobby.
Finn, who was born in St. Louis, Mo., placed his first purchases atop a bookcase in his home. "That's where it all began for me," he said.
Finn spent his working years as a registered land surveyor licensed in Michigan and Arizona. He said he put in 18 years in fieldwork in Detroit, and the last 10 years before his retirement in 1993 as a construction inspector in capital improvement and public works projects for the city of Phoenix.
He does not know anyone in model railroading, but drew upon his many years of working outdoors in creating the meticulous detail for the HO-scale layouts he made for four years before turning to N-scale about eight months ago.
Finn presently is constructing an N-scale layout in a spare room in his home, building it atop a piece of plywood that measures 34 inches by 80 inches. He must complete wiring and landscaping, and estimates it will be next May before the layout is operational.
"I may spend 45 minutes to an hour at it before turning to something else," Finn said. "But when I'm really in to modeling, I may spend 30 hours per week at it."
The Finns lived in Joplin, Mo., when he constructed his first operational HO-scale layout. "My first train table measured 4 feet by 12 feet and was two 6-foot lengths bolted together," he said. "It eventually became a three-level layout."
Finn said through May 9, 1998 he had invested $1,697.74 in model railroading and saved $523.83 on discounts.
But he added that if you become too interested in the cost of your purchases it can take the enjoyment out of the hobby.
Marjorie Finn loves being involved, too.
"I help make rock castings for the mountains for the layouts, and he always asks for my opinion on everything," she said.
"I don't begrudge one penny of what has been spent. It's better than sitting around watching TV and drinking beer."
The Finns, who've been married 57 years, moved from Joplin to Kingman in November 2002. They had planned to settle in Bullhead City, but decided they'd had enough heat after their many years in Phoenix.
The couple enjoys travel. Finn also has model collections of airplanes and automobiles.
Neighbors is a feature that appears Mondays in the Kingman Daily Miner. If you have an interesting experience you'd like to share, contact Terry Organ at 753-6397, ext. 225.