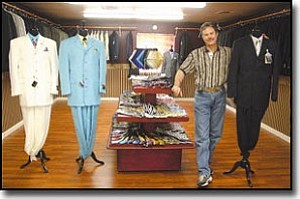 Originally Published: April 3, 2006 6 p.m.
KINGMAN – Motivation for opening a business? Money. That answer fits for 99.9 percent of business openings. But a new fine suit shop that is going to open on Northern Avenue Tuesday reminds people that someone also creates businesses for common good.
Kelly Fallis, pastor of Cornerstone Mission Project in Kingman, is also the manager of the suit shop. He said 100 percent of the profits generated from the store will go to the mission to help the needy in the county.
"Of course, we first need to pay our employees and the rent. But after that, every cent goes to the mission," he said. As the man supervising the shop's daily operation, he is not on the payroll. He still gets his salary from the mission.
"I got a call from a crying woman a couple of days ago (who) said she and her three children were on the street and asked 'what can you do for us?'" Fallis said. "It broke my heart. We can really do nothing. Or maybe we can put them into a hotel, but for how long?"
Through running the suit shop, he hopes the profits generated can help build a shelter for single women and another to help needy families.
If the business runs well, a new clinic that focuses on basic medical care toward needy persons is also on the radar.
Creating a new business has been under the mission's consideration for a long time. A new business can bring much-needed employment opportunities to the community while generating a profit to fund the mission's programs in Mohave County. But the business has to meet two important criteria – serve the community and be profitable.
To find out the right answers, Fallis talked to more than 100 people in Kingman for consultation. He gradually realized that a fine suit shop is just what this community really needs.
Usually people in the county have to drive either to Las Vegas or Phoenix to buy fine business suits. Opening a suit shop in Kingman could well bridge the gap.
"First of all, we guarantee the high-quality of any products in our shop. Secondly, we guarantee a low price," Fallis said. The low price comes not only from a low import price, but also from the motivation of the business.
"Greed is not leading our business. Our only goal is to serve," he said. Offering high-quality products at a reasonable price, hiring local residents and serving local needy people through the mission can well fulfill the goal, he added.
By the time of the grand opening on Tuesday, the shop will offer business suits, ties, shoes and casual suits from several internationally recognized brands. The shop will also hire a veteran tailor to help produce business suits according to customers' requirements. Customers can stop by any time, and the tailor will measure for size and deliver the suit to the office or family when finished. It's the kind of service, Fallis believes, that Kingman's business community has been in need of but unable to get locally.
At the same time, customers know that every purchase they made is going to help make this community a better place. "They make themselves look great and they help make this community look great. Is there anything better?" asked Fallis.
For a shop that focuses on relatively high-end products, the location at Northern Avenue seems a little bit remote. But Fallis believes the location won't be a problem.
"We are in Kingman, not Vegas. You can get anywhere in five minutes, so I don't think the location will be a problem," he said. Fallis had considered choosing a location on Stockton Hill Road, Kingman's main business artery, but the high rents forced him to give up.
"As I said, our profit margin is small. A higher rent can only mean a higher charge on customers, and that is something we have been trying to avoid," he said.
Right now, Kingman only has one major business avenue, the Stockton Hill Road. In the long run, Fallis believes the city has to exploit some new business areas as the city's business and population keep growing. With a four-lane road and easy access from all directions, he believes Northern Avenue has every reason to be the next business street. He hopes the new shop can help push such a process.
To help guide the business, a 10-member board, which includes mission representatives, local officials, business executives and people who care about the mission's programs, has been created to monitor the shop's operation. The board is going to meet once a month at the beginning, and Fallis hopes the board can meet more frequently after a while.
"Everything here is going to be transparent and accountable. We hope more and more local residents can get involved in this and help us grow," Fallis said.