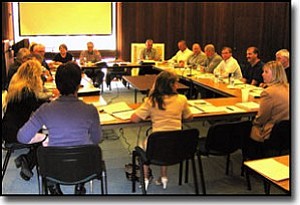 Originally Published: April 11, 2006 6 p.m.
KINGMAN – City Council members and department directors reviewed Monday preliminary city budget numbers for fiscal year 2006-07, all funds totaling $115,514,677 – an increase of 30 percent from last year.
A number of factors account for higher numbers, including a projected sales tax increase of more than 9 percent, 27-percent of state-shared revenue and investment fees for new development calculated in the city's budget for the first time.
The city's general fund, the operating budget for city departments, increased 8 percent, roughly 29 million from 27 million. City Finance Director Coral Loyd said the city faces challenges in providing services for the growing population while staying under the state-mandated spending limit, which for Kingman is 6 percent, a number based on antiquated population estimates, she added.
A number of positions requested by departments were eliminated because of lack of revenue and the spending limit – one building inspector, 10 police officers and an administrative assistant in the Human Resources Department.
Police Chief Bob DeVries said that services could be strapped by the end of the year, where the department would have to prioritize calls.
City Manager Paul Beecher said that funding emergency services is "where the biggest impact is going to be felt."
"We all have our hands full, the reality of it," he said.
Capital improvement projects account for $30 million of the proposed budget for 11 slated projects.
The projects include wastewater upgrades, Bank Street construction, eastside improvements associated with the Airway expansion, flood control and design and engineering fees for the proposed Kingman Crossing and Rattlesnake Wash Interchange projects.
Funding planned for capital projects are scheduled through a combination of voter-approved revenue bonds, investment fees, Colorado River funds, excise tax bonds, flood control funds, improvement district bonds, development agreements and inter-agency agreements.
New programs introduced in the budget include funding for the Economic Development Department, KART expanded to include a third route, and the implementation of a Geographic Information System that will "allow the city staff to maintain current and historical information for assets such as street pavement, water and sewer system infrastructure," according to the budget proposal.
Council will review the budget in May for modifications and vote for final adoption in June.