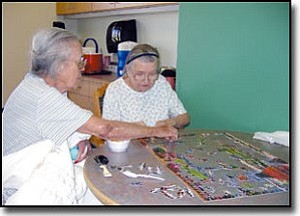 Originally Published: April 20, 2006 6 p.m.
KINGMAN – The Gardens Rehabilitation and Care Center and The Lingenfelter Center are participating in a 3-year project aimed at improving the quality of life for their residents.
Beverly Poole, director of nursing at The Gardens, said the sister facilities applied for participation in "Patient Center Care" last September and were accepted. The project is contracted through the Centers for Medicare and Medicaid Services and administered by the Health Services Advisory Group, a quality improvement organization.
The Gardens is a skilled nursing and rehabilitative care facility that also does long-term care.
The Lingenfelter Center is an Alzheimer's disease facility that does some behavioral health care, said Amy Elsbury, director of nursing at TLC.
Culture change is a growing movement within the long-term care industry, Poole said.
Historically, nursing homes were set up on a medical model of care. Patient Center Care changes the model into one of a social nature, Poole said.
"Participation in the project enables our residents to make decisions as they would at home, only in a different setting," Elsbury said. "Instead of us driving their schedule, they drive ours."
Residents no longer are awakened from sleep at set times for meals. They arise at their leisure and have more options on what they wish to eat, instead of just items on a daily menu.
Both facilities began training employees in November to delivered focused care as well.
The Lingenfelter Center already was divided into three units, so there was little to do as far as re-configuration.
"Our (certified nursing assistants) are now in charge of their own staffing," Elsbury said. "This permits more control in work situations and we're doing more peer counseling as well.
"We've gotten away from top-down to a front-line management style."
The Gardens divided its wings into "neighborhoods" in March, when the transition took effect. It includes: the Lily wing, where long-term care is provided for residents that are more alert; the Violet wing, which is where rehabilitative therapy is done; the Rose wing, where long-term care is provided to those that are cognitively impaired and require more help with eating; and the Daisy wing, which is where most of the residents have terminal conditions and require more comfort care.
"In the past we had people all over the building and did not segregate them on the basis of medical needs," Poole said. "We now have specially-trained staff in each neighborhood to meet the needs of residents in them."
Additional emphasis is placed on staff satisfaction and retention to keep the two facilities competitive in the job market. Employee retention ensures a better level of care that is more consistent, Poole said.
The Gardens also has been accepted to participate in a Model Teaching Unit with The Beatitudes. The Beatitudes is a long-term care facility in Phoenix that has pioneered Patient Center Care and has a grant to mentor other facilities.
Poole said participation in the project is just the first phase of change for The Gardens and The Lingenfelter Center as health care continues to evolve.
"Our whole campus is committed to changing the quality of life for our residents," said Julie Mitchell, nursing administrator for the two facilities.