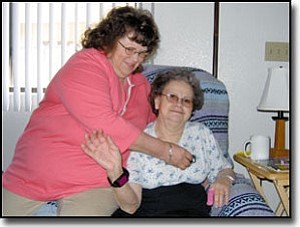 Originally Published: April 27, 2006 6 p.m.
KINGMAN – Linda Yeager no longer has the fear of going outdoors she did for many years due to epilepsy that has plagued her since age 3.
"I was rushed to Loma Linda Medical Center (in Southern California) following a seizure and underwent surgery to have water drained off my brain," she said. "The doctors told my parents I had no better than a 50-50 chance of surviving and I almost didn't come out of it."
Yeager, 62, underwent implantation Jan. 24 at Kingman Regional Medical Center of a Vagus Nerve Stimulator. It has dramatically changed the way she lives. "Before I didn't dare go outside unless someone was with me," she said. "I was afraid to even go into the kitchen because of the danger of falling.
"I have a better sense of well being now."
Throughout her life Yeager was on multiple anti-seizure drugs, two at a time in an effort to control her epilepsy. It was Dilantin and Phenobarbital for many years and later Depakote was substituted for Phenobarbital.
No matter what combination was tried, the seizures persisted. They normally were of the staring type in which she was unresponsive until the episode ended. But there also were petite mal and grand mal seizures in which the person's arms, legs or both flail or kick violently.
Epilepsy is a neurological disorder marked by recurring seizures resulting from electrical abnormalities in the brain. Seizures lead to a change in sensation, awareness or behavior for short periods in those afflicted with epilepsy.
Last August, a nurse in Las Vegas who is affiliated with Cyberonics, Inc., contacted Dr. Nimfa Aquila, Yeager's neurologist, to inquire if she had any candidates for implantation of the company's Vagus Nerve Stimulator. Aquila gave her Yeager's name. Yeager received a compact disc and information in the mail about the VNS and its benefits. She agreed to have the surgery performed.
Implantation has been done around the country and was covered by Yeager's insurance.
Dr. Jim Bates and Dr. John Conn, partners in Tri-State Surgical Associates, implanted the VNS device in her upper left chest at KRMC in an operation taking about 40 minutes. It was the first such implant procedure done in Mohave County.
"Linda had three grand mals just before the procedure was done," said Sheila Leakey, Yeager's constant companion. "She fell, hit her head and broke her glasses."
The device is similar in appearance to a heart pacemaker. A lead from it is connected to the vagus nerve in the neck.
However, the device was not immediately activated upon implantation. Yeager needed some time to heal from the two incisions and one of the team members could not be present for the surgery. Aquila was recovering from a broken ankle, Leakey said.
Yeager went to Aquila's office April 12 and a Cyberonics representative and member of Aquila's staff activated the VNS.
It fires an impulse into the neck nerve, which in turn goes to the brain, every five minutes. The duration of the pulse is 30 seconds, during which Yeager is unable to speak, the one side effect with which she must live with. Yeager wears a wristband containing a magnet and Leakey has a belt clip magnet with her. At the onset of seizure activity now, a "swipe" of either magnet over the VNS causes it to fire instantly.
"Linda has had three seizures since it was turned on," Leakey said. "I swiped the magnet over the device and they instantly stopped. It works very well as long as there is someone there to do it."
Yeager has no recollection any time she has a seizure or inkling one is coming on. The wristband permits anyone with her to "swipe" the magnet over her VNS, as Leakey does with the belt clip magnet.