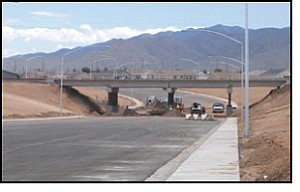 Originally Published: August 5, 2006 4 a.m.
KINGMAN ­ How will the landscape change over the next 25 years?
The current growth pattern follows to the northeast and a little to the southeast, according to City Manager Paul Beecher.
Beecher said building at the moment roughly follows from the downtown area, along Interstate 40, between I-40 and along Hualapai Mountain Road, and between I-40 along Stockton Hill Road and out toward the airport to Valle Vista.
Century 21 Real Estate agent Cathy Ott sees development going in the direction northwards down Stockton Hill Road and further east down Route 66.
"You look at North Stockton Hill, because of the lake, and because of the road being paved, I think that's a no-brainer, it's beautiful country, I think that's where you're going to see a lot of our growth, and I think a lot of the developers are seeing that to," she said.
"As far as industrial, I think you'll see more heading out I-40 toward Havasu, that direction. The distribution center will be up and running and I think you'll probably see what you see in St. George (Utah) now, with all the other industrial kind of growing around that."
The Kingman Area Transportation Study offers a projection for what local streets will look like by the year 2023.
Taking data based on 4-percent growth of the study area for 2005 ­ a population of 35,471 ­ the study projects the population to increase to 77,748 in 2023 for the area defined as a mile north of Jagerson Avenue on the north, to the airport on the east, two miles south of downtown on the southern edge and to milepost 68 on the west.
The study predicts Route 66, state route 66, Airway Avenue and U.S. 93 and Stockton Hill Road will absorb the most congestion, with the largest increase expected to be on Airway Avenue.
Daily traffic projected to move down Airway is 42,000. Traffic on Stockton Hill Road is expected to increase to 50,000 per day north of I-40, an increase of 59 percent.
The study estimates 2023 volume on SR 66 to be 44,000 vehicles per day north of Airway Avenue and 38,000 vehicles a day driving along Route 66 south of Detroit Avenue. By contrast, current traffic volume in the vicinity of Harrison and Route 66 is about 19,200 vehicles.