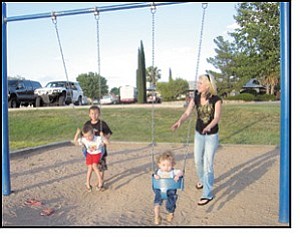 Originally Published: August 11, 2006 4 a.m.
KINGMAN ­ Quentin Lopez, 8, and his brother Tristin, 4, grinned as they wrestled one another and Gauge Peeler, 17 months, watched his two cousins for a moment before turning his attention elsewhere.
The three boys visit Cecil Davis Park once or twice a month with their mothers, Kami Lopez and Jennifer Stremel, on family outings.
"This park is conveniently located to where we live," Lopez said. "It also has toys appropriate for the ages of kids."
Cecil Davis Park is located at 601 Van Buren Street and Southern Avenue off Hualapai Mountain Road. Its amenities include two picnic tables and shelter, benches, ball fields, playground, electrical outlets and restrooms.
"It's close to our house," Stremel said. "It's a huge park for kids to run in and is clean."
Built in 2000 on land donated by the Davis family, the park encompasses six acres and affords visitors the opportunity to engage in softball and soccer, while keeping younger children entertained with new playground equipment, said Darel Fruhwirth, director of the Kingman Parks and Recreation Department. The park has less shade than others in town. But that will be remedied once new trees grow in, Fruhwirth said.
Cecil Davis Park has a barbecue grill, two backstops and a basketball court as other features.
People wishing to reserve picnic tables for special occasions may do so by calling the Kingman Parks and Recreation office at 757-7919.