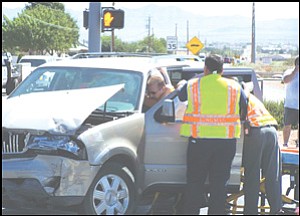 Originally Published: August 16, 2006 9 p.m.
KINGMAN - A driver who was allegedly speeding when he ran a red light in a 1987 Ford Mustang Tuesday morning was considered responsible for a three-car collision at the intersection of Stockton Hill Road and Gordon Drive, Kingman Police said.
Gary Wayne Waldron, 35, of Kingman, drove his Mustang southbound on Stockton Hill Road at about 10:25 a.m. at a speed between 40 to 45 miles an hour, then tried to turn left onto Gordon Drive on a red light, said KPD officer Mark Chastain.
Nicole Berry, 25, of Kingman, driving a 2005 Lincoln Aviator eastbound on Gordon Drive, collided with the Mustang at the intersection. The collision bounced the Mustang into the northbound lane of Stockton Hill Road, hitting a third vehicle, a Buick, driven by Herbert Ballard.
Chastain said the accident could have been fatal.
Waldron received bruises on his head and arm and refused to go to the hospital.
Berry was sent to Kingman Regional Medical Center soon after as a precaution because she is pregnant. An initial hospital examination showed she was fine, Chastain said.
The Buick suffered minor damage in the front, but the driver did not get hurt, Chastain said.
After initial examination of the accident scene, Chastain said it's clear Waldron is totally responsible for the accident.
Chastain acknowledged that the section along Stockton Hill Road between Gordon and I-40 is a high-risk traffic area, and the major reason for accidents is usually speeding.
More like this story