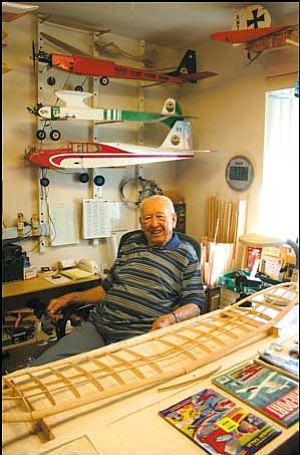 Originally Published: August 28, 2006 9 p.m.
KINGMAN - Robert Baker began building model airplanes in his hometown of San Bernardino, Calif., at the age of 10.
"There were not a lot of other things to do back then," he said. "Television had not yet been invented, so I was into model airplanes for nine years until going to work for Lockheed Aircraft."
Baker estimates he built 30 model planes during his boyhood.
He spent 45 years with Lockheed until his retirement in 1984. He primarily worked at facilities in California and was a manufacturing engineer the final 20 years of his career.
Overseeing final assembly for many years of P-3 aircraft, which is an anti-submarine detection plane, was one of his major responsibilities.
A 30-year member of the American Modelers Association and 10-year member of the Society of Antique Modelers, Baker currently is constructing his 30th model plane since retiring from Lockheed. It's a "Zomby," a plane of 1940s design that a good builder can construct in 2-3 months, Baker said.
He has been working on his Zomby off-and-on for two years.
"I picked this one because it's a little different from ones I built in the past," Baker said.
The plane is built from blueprints rather than a kit. Kits are a big part of modeling today and offer the enthusiast "almost ready to fly" models with a fuselage and wings to be put together in a very simple operation, he said.
There is both relaxation and challenge in building model aircraft. Models today come with gasoline engines and are remote-controlled by radios, whereas those he built as a boy were powered by rubber bands wound into coils and rode thermal currents.
Baker is a member of the Kingman Modelers Club that meets twice weekly near Kingman Airport. He served as secretary for the club for 10 years, but has not been an active flyer for the past three years due to problems with his equilibrium.
One of his more interesting flying experiences happened here five years ago.
"If you take your eyes off the plane in flight, that's a big no-no," Baker said. "You run the risk of seeing another plane you think is yours or hearing a big crash.
"All of a sudden my plane was very high and then it wasn't there anymore. I knew the direction of travel, got in my car and took off after it but never saw it again."
"I should have put it in a loop in order to see the sun flash off its wings. Then I would have been alright."
Baker and his wife Helen have been married 60 years. They moved to Kingman in April 1991 from Katherine's Landing, where they lived seven years.
The move was made to escape the higher summertime temperatures near Bullhead City and get into the town that had a modeler's flying field to which he used to drive every Saturday, Baker said.
When not working on a model, Baker enjoys photography and watching DVDs.