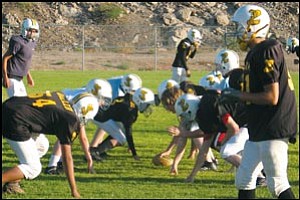 Originally Published: August 28, 2006 12:05 p.m.
KINGMAN - Youth football players and cheerleaders are gearing up for another season of Kingman Cobras Pop Warner action, which is set to kickoff at 9 a.m. on Sept. 9 at Southside Park.
Kingman Pop Warner will have approximately 195 football players and 72 cheerleaders participating this season, a total of eight teams and five cheer squads. New to this season is a Tiny Mite Flag football team for children ages 5 and 6.
Also new to the city's Pop Warner league this year will be the titles of its board members. Pat Maddocks is moving from vice president to president, with Keith Hill serving as vice president and former president Mark Diblasi taking over as treasurer. Abbie Nazar will be the secretary, and Cecilia Stiles is the league's cheer coordinator.
The first game in town on Saturday will be the Mitey Mite Black team, followed by the Mitey Mite Gold team. Both are playing teams from Lake Havasu. The Jr. Midget Black team will face the Jr. Midget Gold team at 1 p.m., and the Midget team will take on Havasu at 3 p.m. The Tiny Mite Flag, Jr. Pee Wee and Pee Wee teams will all be in Bullhead City for their first games.
More like this story