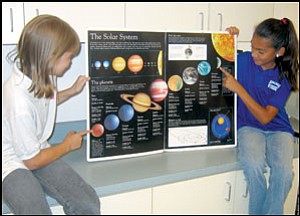 Originally Published: August 28, 2006 9 p.m.
KINGMAN - Last week's decision by the International Astronomical Union during a conference of some 2,500 astronomers from 75 countries in Prague in the Czech Republic to remove planetary status for Pluto has led to differing reactions by local school officials.
"What makes me saddest is that is was a kind of claim to fame for Northern Arizona University," said Betsy Parker, assistant superintendent of the Kingman Unified School District.
Astronomer Clyde Tombaugh discovered Pluto in 1930 while working at NAU's Lowell Observatory.
"It's interesting how scientific things change from year to year, and I think part of that is we are more able to do more research as technology improves," said Susan Chan, district administrator at the Kingman Academy of Learning.
Pluto now is considered a dwarf planet by astronomers, leaving Mercury, Venus, Earth, Mars, Jupiter, Saturn, Uranus and Neptune with the designations of planets in our solar system.
Astronomers hold to three rules for considering a heavenly body as a planet. It must be a celestial body in orbit around the sun, have sufficient mass for its self-gravity to overcome rigid body forces so that it assumes a nearly round shape, and clear the neighborhood around its orbit.
Pluto does not meet the last of the three criteria because its orbit overlaps that of Neptune.
Chan said she would pass along the information to district teachers, who may not already know about the reclassification and teachers would have to "unteach" what they have taught. As far as new textbooks reflecting the change, she wants to first see new standards set forth by the state Department of Education on the matter.
Parker said textbook manufacturers often make up "supplements" for matters such as this and likely would send them out to incorporate into present texts.
"Our students don't study the solar system in all grades," Parker said. "It's not taught in life sciences, just physical science, and that impacts three grades."
One news report has stated it would be four to five years before new textbooks could be produced that include just eight planets. However, Parker and Chan both agree their districts ultimately will have to buy new science textbooks
Parker said the district would have to buy about 600 new textbooks at $60-$75 apiece. The price would be the same for about 110 textbooks at the KAOL, Chan said.
"It could be an interesting lesson for the kids to look at what the new definition is of a planet," Parker said.
"Sometimes we discover things that are changed, proving that everything is not necessarily cut in stone."
Chan was asked if the announcement coming at the start of the school year is bad timing.
"I don't think so," she said.
"It almost lends itself to interesting teaching in the classroom. Students now are part of a major scientific change."