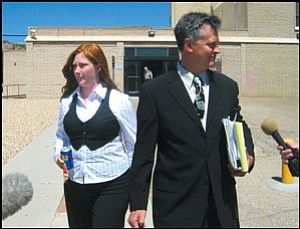 Originally Published: August 30, 2006 9 p.m.
KINGMAN - The trial against Colorado City man Randolph Barlow Tuesday morning was derailed eight minutes into the session when the alleged victim, Candi Shapley, refused to answer questions from County Attorney Matt Smith.
After repeated warnings and several recesses, Mohave County Superior Court Judge Steven Conn held her in contempt of court and imposed a 30-day monitored living sentence in a local shelter unless she decided to change her mind and testify.
Everything appeared to be normal when Smith began to question her on some basic personal and family information.
After a few exchanges, when Smith pointed out that her answers might contradict the answers she offered to a grand jury last year, Shapley suddenly turned emotional and refused to cooperate. "I have nothing to say" became the only answer to any question.
Conn ordered a quick recess, during which Shapley and her attorney, Mik Jordahl, had a private conversation.
When Shapley returned to the witness stand, she continued to refuse to answer any questions and indicated later on that she would not answer any of the state's questions, the defense questions, or questions put to her by the court.
A few more recesses later, Conn decided to hold her in contempt of court and put her into custody.
Under the request of the state, Conn agreed to send her to an electronically monitored shelter room rather than the county jail.
A local victim advocacy program offers the living place, and the county probation department offers the monitoring system.
Conn set a new trial date for Sept. 26, presuming Shapley agrees to testify by then. Conn made it clear he would not wait indefinitely if Shapley kept refusing to testify.
He might let the trial go without the presence of the witness at some point in the future.
Out of the court, Smith said the trial was not going well. "I had no idea this was going to happen," Smith said.
Smith said he believed that there is a lot of pressure put on Shapley on this specific Colorado City case.
Shapley's parents, believed to be members of Fundamentalist Church of Jesus Christ of Latter Day Saints, had kidnapped her before the last trial, took her down to Phoenix and took away her cell phone, Smith said. He said the state has reason to believe that Shapley's parents tried to stop Shapley from testifying against Barlow. Shapley's mother was present in the courtroom on Tuesday.
Smith said Shapley, who grew up in an FLDS family in Colorado City, still feels bad about what she is doing in the case and does not want to send the defendant to jail.
By proposing a less harsh punishment of monitored living on her, Smith hopes Shapley will use this period to cool down and think everything over.
"Maybe she doesn't like it over in the shelter and decides 'I have had enough of this and I want my freedom back' and then testify," Smith said.
Smith said he did not how long it is going to take to get Shapley to testify, but admitted that the state has no chance to win the case without Shapley's testimony.
Defense attorney Bruce Griffen left swiftly after the trial, offering just a "no comment" to all questions. He told the court earlier that he was involved in a murder trial in Yavapai County in late September and might not be available on the new trial date.
Jordahl, who represents Shapley, said after the trial that he was also caught by surprise by Shapley's refusal to cooperate in the court.
Declining to get into details, Jordahl suggested part of Shapley's reaction might come from her distrust of the prosecution.
Barlow, the defendant, faces two charges of sexual conduct with a minor in the trial. He is believed to be a member of FLDS, a sect that believes polygamy is a protected and sacred aspect of religion.