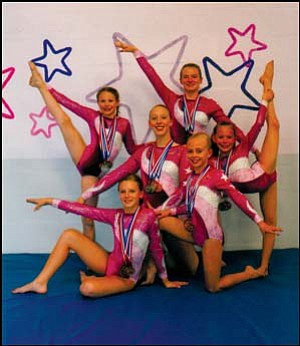 Originally Published: December 4, 2006 11:33 a.m.
KINGMAN - The All Starz Academy Gymnastics team in Kingman sent 22 gymnasts to the Arizona State Championships on Nov. 10-11 in Mesa and Nov. 18-19 in Phoenix.
All Starz won 55 medals combined in Level 4, 5, and 6 and captured six state champion titles by placing in the top 3 in their age divisions.
Leigh Becker, 15, won the state title in Level 5 with an all-around score of 37.3 and winning gold medals on vault (9.45), beam (9.375), and floor (9.4).
Also in Level 5, Sydney Tribbett, 10, won a gold on vault (9.325), a bronze on bars (9.25) and silver in the all around with a 36.175. Victoria Steighner, 13, won gold on beam (9.05), bronze on floor (9.3) and bronze on all-around with 36.05.
In Level 6, Heather Oder, 15, earned silver medals on vault (9.5) and bars (8.95) and a bronze on floor (9.025). Briana Mecom, 10, won silver on beam (9.3).
In Level 4, Kirsten Lewis, 8, bronze in the all-around competiton with 36.1
The Academy's first competition next year is Jan. 26-28 at the San Diego Classic.