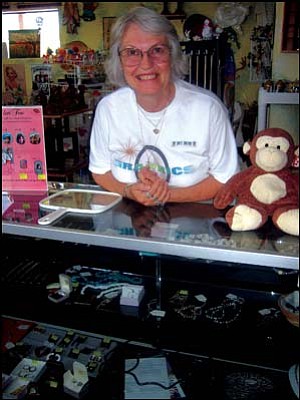 Originally Published: December 8, 2006 10:44 a.m.
GOLDEN VALLEY - Whether the customer is shopping for a house, something to decorate it or a gift for someone special, they can talk to Jeri and Ron Feneis at the Golden Valley Marketplace on state Highway 68 in Golden Valley.
The Feneises are the ones to approach, too, for those looking for someone to prepare their tax forms or in need the services of a notary public, to make color copies or to fax something for them.
The Marketplace houses Y-Knott Gifts Galore and More, Arizona Real Estate Mohave County, Jeri's Bookkeeping and Tax Service, and Special T custom T-shirts.
"We've been here since 1992," Jeri Feneis said. "Back then, there were only about a half-dozen real estate offices in Golden Valley. Now, there are 15 on Highway 68 alone, and most of them opened in the last year."
Housing prices haven't fallen back to their pre-boom levels, but sales have all but died since late summer, she said.
"The last time we saw a cycle like this was in 1988 and it was all over the U.S., like it has been this time," Feneis said. "There were a lot of investors. Now, it's a normal buyer's market again."
Real estate sales typically slow with the beginning of the school year and pick up again in early spring, because no one wants to move during the fall and winter holidays, she said.
Gift shop
Y-Knott Gifts Galore and More opened two years ago right next door to the real estate office, when Feneis decided to sell some of the antiques her husband had inherited from his late aunt's estate.
"They're very nice, but we didn't have room for it all, and not all of it was our taste. We kept saying we'd open the gift shop as a retirement income," Feneis said. "So we opened as a small gift store and it just spread."
They added onto the real estate office building, using an ornate, 100-year-old door from the late relative's home in Michigan to connect the office with the store.
In the gift shop, customers will find a wide variety of decorative, personal care and gift items, ranging from Watkins and Avon products to arts and crafts items created by local Golden Valley artisans and artists.
"The shop is too small to hold everything, so we do a lot of special order business through catalogs, especially at Christmas, but year-round, too," Feneis said. "And, we carry some consignment items.
"Rick Roman of Golden Valley does the rock art and the silver and turquoise jewelry, and Jim Hill, another Golden Valley native, does the woodcarvings and hanging pieces. They both do beautiful work."
The display cases, walls and shelves are overflowing with handmade jewelry, organic skin care products, decorative knick-knacks, birdhouses and other unique gifts.
Y-Knott Gifts also carries Arizona and Route 66 souvenirs, Red Hat Society items, Rhapsody candles, handmade leather purses, Star Buds floral designs by Ann Costello of Chloride, Ty Beanie Babies, Princess House crystal and Paradise Valley Collectibles.
"When we opened, we wondered what we would do with all of the space," Feneis said, laughing.
"Now I have to think about how to display things to make the best use of what little space we have. We ended up with a full house."
So how does Ron figure into the business?
"Ron's the fix-it guy," Feneis said. "He retired last year from Hollywood.
"He worked restoring old movies. The first one he did was "Gone With the Wind" years ago. He received an Academy Award for it."
Her son, Matt Hays, also is involved in the business, running the Special T custom T-shirt shop.
Bring in a favorite photograph and have it imprinted on a T-shirt, or choose from hundreds of other designs, Feneis said.
But the fun isn't restricted to inside the store.
Visitors also can enjoy the shade and a cool drink, and have their photo taken with Levi, the burro.
When the shop closes, Feneis is the area TOPS - Take Off Pounds Sensibly - group captain.
"TOPS meets at 6 p.m. on Wednesdays in the back room at the VFW," she said.
And for those new to the area, the Marketplace publishes a bi-monthly newsletter with information about who to contact for various utilities, voter's registration, civic organizations and other public services.
For more information on any of the Golden Valley Marketplace businesses or about the TOPS program, call Feneis at 565-3537 or 565-9224.