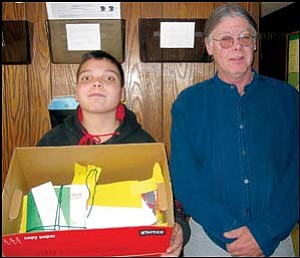 Originally Published: December 22, 2006 9:07 a.m.
KINGMAN - American soldiers serving in Iraq soon will receive thank yous for their efforts from students at Kingman Middle School.
Special education students in social studies classes taught by Tom Lyon and students in art classes of Steve Bucher began preparing the cards last Friday. More than 150 cards were ready for pickup Tuesday by Bob Borland, whose son, Jacob, was among students drawing and writing sentiments on the cards.
Borland passed the cards along to the Bullhead Patriots, which will pay costs for military air shipping to Iraq.
"Bullhead Patriots is a volunteer organization started between the time of a funeral for one soldier and arrival home of another with no welcome," she said. "The Patriots are there for a proper welcome for soldiers arriving home, sendoff for those going overseas, and to help with transportation and arrange hotels for families of soldiers killed in action."
A call placed to the group's organizer at (928) 542-6807 Wednesday was not immediately returned.
Lyon said his students had a free hand to draw or write anything they wished as long as it was in good taste.
"I just want to wish the troops a merry Christmas," said Zach, one of Lyon's students.
Steven, another student, also wishes the troops a "merry Christmas."
"Our troops don't see their wives, sons, daughters or parents for long periods of time," said David, another student. "I hope they all get back safely."
The greeting card project hits especially close to home for Bob and Vickie Borland.
They have a daughter in the U.S. Army. Sp4 Lissette Borland has served one year in Iraq and currently is undergoing additional training in Georgia. She is to go back to Iraq at a future date.
More like this story