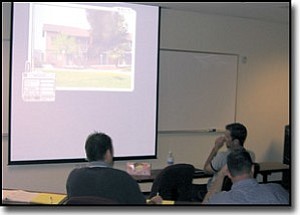 Originally Published: February 6, 2006 6 p.m.
KINGMAN – Rink Gordon was busy Friday fighting a structure fire by himself. The engineer for the Kingman Fire Department ran through his procedures checklist and called out orders to a crew that wasn't there.
If the commands he ordered were the right ones, the fire went out. If the orders were the wrong ones, then with the click of a button the fire increased. Fortunately, the fire was nothing more than a computer simulation in a classroom at the Mohave County Administration Building.
Gordon was one of about a dozen firefighters participating in an assessment test that included two parts of the exam needed to achieve the rank of captain. Friday's program was designed to prepare them for the real thing.
The United Professional Firefighters of Kingman Local #4191 set up the prep test. Officers from the Kingman, Chino Valley and Lake Havasu City Fire Departments volunteered to evaluate the candidates and provide feedback on what they needed to work on before taking the actual test.
Gordon admitted he has some work to do but feels the exercise was a valuable learning experience.
"They made some good points and I appreciate them not holding back (on their comments)," he said. "If they let me do it again, I know I'll do a lot better next time."
While the first part of the prep test involved dealing with the natural hazards of the job, the second part forced the candidates to deal with the personal side.
Being the captain of a fire department company requires a variety of skills. They are the field generals during emergencies, directing their crews to rescue victims, extinguish flames and save as much of the property as possible.
That's the easy part, at least compared to the daily management of their crews' personalities, egos and personal issues. If a captain can't manage his crew during down times, it can have a disastrous effect during emergencies.
Since personnel management affects fire crews' performance, candidates for captain positions undergo role-playing scenarios on dealing with difficult personal problems.
"(Personal interaction) is the hardest part of the job," Kingman Fire Capt. Roger Dixon said. "Fires are sporadic and unpredictable. This is an everyday job."
The official test for the captain position also includes a written test and oral presentation. The Kingman Fire Department has just one open position for captain but will need to add three more for each new station that opens as the city grows. Even if Friday's candidates don't earn the spot this time, they've still gained knowledge they can apply in the future.