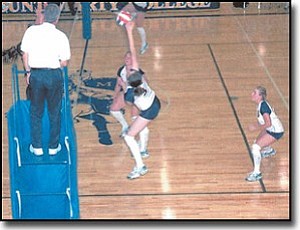 Originally Published: February 7, 2006 6 p.m.
KINGMAN – When Lindsey Adams left Kingman in 2004 for Yorkton, S.D. and Mount Marty College, she had a pretty good idea how the next two years of her life would play out.
Recruited for her skills as a point guard, Adams chose to attend the Catholic Benedictine school to study radiology and play basketball before transferring to finish her degree.
But after one game as a Lady Lancer, Adams was diagnosed with Type 1 diabetes, ending her college basketball career and altering more than just her life at Mount Marty.
"I didn't really know that I wasn't going to be playing basketball until two or three weeks after," she said. "I tried to do it, but my blood sugar was just so out of whack every time. My body was all messed up. I could really see what my doctor was saying."
In addition to dealing with her own life changes, Lindsey's mother, Marilyn, was diagnosed with Type 2 diabetes shortly after
"It was all completely new to me," Adams said. "I never thought something this tragic would happened to me."
Although basketball was her passion and her disease limited some of her options, Adams did not push her athletic drive aside. A two-year varsity volleyball player at Kingman High School, Adams met with Mount Marty volleyball coach Tracey Grotenhuis, joined the team's spring program and found her way onto the roster for the fall season.
"She's a very likeable person and seemed to have a real passion to play any sport, so we were excited to have her join our team," Grotenhuis said. "Her teammates nicknamed her 'Killer' because she was so little (5 feet 5 inches) but so aggressive and quick on her feet."
"Killer" said it took some time, but armed with juices and granola bars, she eventually found the right balance to manage her blood sugar levels and not sacrifice any competitive edge.
"It comes natural now," she said. "You know when you're feeling low or high. The GPAC (Great Plains Athletic Conference) is one of the toughest in the NAIA with nationally-ranked teams, and we came a couple game short of making our conference tournament, but it was a great experience."
As volleyball season ended and basketball season came back into focus, Adams chose not to give basketball another try due to the extensive amount of running, but she still had an interest to play sports and tried out for the softball team. Of the 50 or so girls vying for a spot on the team, Adams was one of three players selected.
"Mount Marty got a new coach this year and was looking for players, and my friends talked me into it," she said. "I thought college would be harder than it is, but a lot of kids play two sports and some play three, so I thought I'd try it to keep in shape."
Adams will play right field for the Lancers, who are currently practicing for their season opener in mid-March. And while she can't play, she said she still enjoys watching basketball and cheering on her former teammates at Mount Marty. "It's hard, but I just love basketball," she said. "I've grown up with it. We're big (University of) Wyoming fans at home, so we always watch them."
And as for that two-year academic plan, Adams' basketball and volleyball teams were recognized as one of the top Academic All-America teams in women's college sports, and she is hoping to return to the West and finish her radiology degree at UNLV.
"I give her a lot of credit for playing college level team sports with it (diabetes)," Grotenhuis said. "Looking back, I don't think she ever sat out of our running or conditioning work.
More like this story