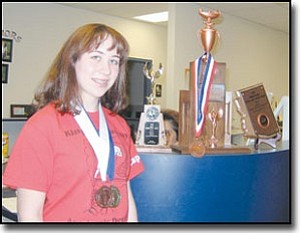 Originally Published: February 10, 2006 6 p.m.
KINGMAN – Kingman Academy of Learning High School's Academic Decathlon team earned a No. 28 statewide ranking following a Region I competition held Feb. 3-4 at Snowflake High School, enabling the team to be one of 40 participants in the state Academic Decathlon competition set for March 9-11 at Skyline High School in Mesa.
B.J. Suchowierski, adviser to the KAOL team, said the school's academic decathlon program is in its third year and has made steady strides. It was ranked 67th in the state two years ago and 45th last year.
"We had the same team as last year, but they all knew what to expect this year," Suchowierski said. "They worked harder and exceeded my expectations."
Academic Decathlon consists of 10 competitions centered on this year's theme of European Renaissance. There are written tests in art, economics, essay, language and literature, math, music, science and super quiz. Students also are tested in two performance events of interview and speech.
Written tests consisted of 50 multiple-choice questions with a 30-minute time limit to complete.
Essay was the exception in which students had one hour.
The interview lasted 10-15 minutes with judges asking students questions based on resumes they'd prepared about academic decathlon.
The speech category was divided into two subdivisions. Students prepared speeches on any topic and gave them over a 3-1/2- to 4-minute time frame.
Judges then gave each student a topic. The student left the room and had 60 seconds to prepare an impromptu speech of 1-1/2 to 2 minutes duration on that topic.
Academic Decathlon teams consist of nine members within three divisions. The Honors division includes students with 3.75 to 4.0 grade point averages over the last two years. The Scholastic division is for students with GPAs of 3.0 to 3.74 and the Varsity division has students with GPAs of 2.99 and below over the past two years.
Junior Brooke Adams, competing in the Scholastic division, set the pace with first-place finishes in music, language and literature, and economics. She also earned a third-place medal in art.
"Economics was toughest for me," Adams said. "It's not what I consider a strong point for me.
"We had expectations as a team of taking third place and almost did."
There were 18 high schools (public, private and charter) in the Snowflake competition. KAOL made a team score of 33,367 points out of a possible 60,000 to finish fourth in the regional event. St. Johns finished first, Round Valley second and Scottsdale Christian third.
Adams made 6,105 points and said she hopes to up that by 2,000 points at Skyline High School.
Other KAOL students placing at Snowflake High were: sophomore Rachel Brackett, second in art for Honors division; senior Andrew Vines, second in art, third in math and third in economics in Scholastic division; sophomore Chris Pereira, second in math in Scholastic division; senior Joshua Hendrix, third in economics in Honors division; sophomore Susan Pierce, third in interview in Honors division; and senior Brett Hanning, third in art in Varsity division.
Erik Ramos, a senior, was another team member participating in the Region I event.
While teams consist of nine members, KAOL was short-handed and sent just eight students, Suchowierski said.
The 12 medals earned by team members was in sharp contrast to the four medals picked up at last year's Region I event, two each by Adams and Elyssa Anderson.
"I hope to place in the top three in art at state," Adams said. "It's my strongest event.
"As far as the team, we aim to be recognized as rookie team of the year as we've never been there before."