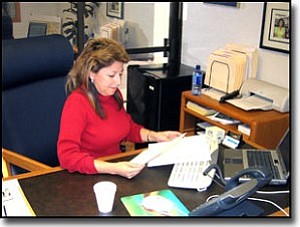 Originally Published: February 12, 2006 6 a.m.
KINGMAN – Election season's officially under way, early voting started Thursday, and Mayor Monica Gates took a few moments Friday to share her views on issues such as managing new development, annexation and Golden Valley incorporation.
Gates said that the Council and City Manager Paul Beecher have met regularly with representatives of Mohave County and service providers in work sessions to discuss the city's growth boundaries. The growth boundaries are the basis of an annexation strategy developed by a city project manager, she added.
"We looked at where to start, what would be the best strategy to bring in different areas, and obviously the ones that currently are vacant land, that don't have homes are easiest, so we're looking at the contiguous areas," Gates said.
"We do have development occurring in some, such as Rhodes. They have been working regularly with city staff to align their plan," she said, adding that the city is working with the county to make sure the general plans of both entities are aligned.
On area traffic issues, Gates said that congestion associated with Stockton Hill Road is a result of a lack of planning in previous years.
"There was no planning, no thinking ahead on Stockton Hill Road. We were excited to see commerce, we were excited to see businesses, but we didn't look to the future on how we were going to handle the traffic on that road," she said.
Gates said accidents on Stockton Hill Road were reduced 40 percent after the traffic lights were synchronized.
She said that the major thing the Council is looking at to alleviate the congestion is creating a second commercial corridor, adding that new businesses can go anywhere they want, and the only place they currently want to go is Stockton Hill Road.
"I certainly think there is enough demand now to look at that second (corridor), which should've been looked at years ago by the way, because the big boxes are knocking at the door."
Gates said the city has made significant changes in the city's development departments to make developers "financially responsible for their own improvements."
"That did not occur in the past. New development was subsidized by existing developments, and that wasn't fair."
Gates said the city adjusted building and planning fees this year for the first time in more than 10 years and will likely adopt new impact fees in early March to "ensure that new growth is paying for itself."
Gates said the city has a non-growth-related deficit of $55 million for infrastructure needs.
"We'll have to look at ways to fund some of these projects," Gates said of capital improvements.
"Could it be a combination of asking for a property tax, asking for a sales tax? That may be one way. We may be looking at bond issues. The thing that we have to understand is that these projects are not optional. You can't put them up on a shelf and wait until you have enough money in the bank."
Identifying a priority of reviewing development standards, she said the city is "tightening up" city subdivision ordinances.
"They have never been reviewed since incorporation. Our standards today are what they were 20 and 30 years ago, and as a community, we deserve better."
Gates said those revisions would likely be made and presented to Council within the next six months to ensure that all developments "meet the same requirements," and "contribute their fair percentage of open space, their fair share of infrastructure however their development will impact our roads."
Regarding the closing of Louise for the Airway Underpass, Gates said, "we have to look to the future."
"The Airway Underpass – if we had Rattlesnake Wash, Kingman Crossing all done today, I'd say it's still not enough. We need to be looking to the future for 10, 20 years out. You know no city is ever caught up. You can't allow yourself to get so far behind that it negatively impacts your quality of life."
Recent efforts for Golden Valley incorporation do not appear to fare favorably with the mayor at this time.
Aside from the city's growth boundaries and "Ultimate Service Area" plan, and having a vested interest in Golden Valley with 47 well sites, Gates said, "it would certainly be nice to see them (the two groups behind incorporation) aligned. I would certainly like to have a conversation with the organizers and make sure they truly understand what is necessary to build a city. You can't survive on state-shared revenue. They certainly don't have the retail sales tax base. I appreciate their efforts, but I don't think the time is appropriate."