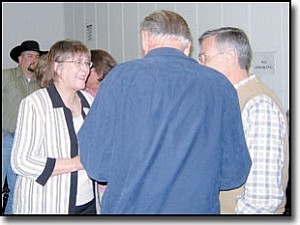 Originally Published: February 13, 2006 6 p.m.
KINGMAN – Doris Goodale's eyes were moist and there was a quiver in her voice Friday night as she bid farewell to co-workers and friends with the Mohave County Probation Department and court system.
Goodale retired after 33 years with the probation department, stepping down as assistant chief probation officer for adult services. She also made official her intent to run for one of two seats in District 3 in the state House of Representatives in the November general election as a Republican candidate.
Last month, Kingman resident Ray Cullison announced he also plans to seek one of the two seats.
Friends and co-workers gathered in a room at the Brunswick Hotel for Goodale's retirement party.
"A lot of people think the grass is greener on the other side of the fence," she told the gathering. "Well, it was always green under my feet and I never had to look any further than this wonderful family.
"As this curtain closes after 33 wonderful years, I'm opening a new curtain. I'm going to run for a seat in the Arizona House of Representatives (applause)."
"Don't get too excited yet because if you're a Republican, I'm asking you to leave $5 before you leave. If you're a Democrat, leave $120."
Goodale is a member of the Kingman Unified School District Governing Board. She plans to run for re-election there in the fall as well.
Goodale plans to file paperwork with the Clean Elections Commission. CEC regulations permit political candidates to raise only $2,900 for their campaigns and all must come from private individuals, nothing from business interests, she said.
She must collect 300 donations of $5 each in order to qualify for CEC assistance and obtain a required number of signatures as a candidate. How many signatures she must get will not be known until the end of June, Goodale said.
The donations she gathers will go toward written materials such as campaign signs and posters.
The CEC will look at revenues of all candidates sometime in May and give her equivalent funding to "level the playing field," Goodale said. That later money will go toward media advertising for her campaign.
District 3 is comprised of Mohave County, northern La Paz County and the city of Page. Goodale's twin sister, Diana Logas, was present. Logas is a teacher at Palo Christi Elementary School.
"Three or four years ago, Doris talked about what was needed in education, so along with her work and school board issues, she knew she was one day going to retire," Logas said. "Once she made the decision to run, it made retirement easier because she knew what the next step is and she's ready to take it."
Goodale said she is very committed to rural Arizona and District 3. She has a strong belief in local control and protection of District 3 interests on such issues as water, immigration, education and taxation.
Goodale was born in Tucson but was primarily raised in Kingman. She completed her K-12 education by graduating in 1967 from the old Mohave Union High School. After earning an AA degree from Phoenix College, she went on to get a bachelor's degree in Sociology from Arizona State University.
She joined the Mohave County Probation Department in 1973. She served 13 years in a juvenile probation position before moving to the adult division in 1986 and becoming assistant chief probation officer.