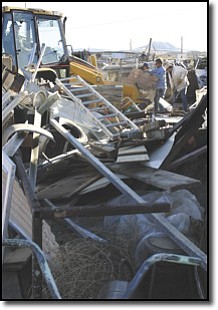 Originally Published: January 6, 2006 4 a.m.
KINGMAN ­ City police, building inspectors and other departments showed up at an address off Hualapai Mountain Road early Wednesday morning to clean up one man's trash that was traumatizing the neighborhood.
Police and cleaning crews began around 8:30 a.m. at 2428 Karen Ave. to clear away more than 70 tons of miscellaneous debris and a number of abandoned vehicles.
City Assistant Prosecutor Carl Cooper said there might have been 10 vehicles towed away, but there was no official count as of 4 p.m. Wednesday.
The city began work after the owner of the property, Charlie Lane, hadn't acted after 35 days of being issued an abatement order to clean up the property, according to John Leg, Kingman Police Department Neighborhood Services officer.
"This guy did absolutely nothing the last 30 days," Leg said, adding that Lane was given an additional 5 days past the order expiration, where "he moved around a couple of cars, but that's about all he did."
"We haven't stopped since 8:30," Leg said at the scene around 4 p.m.
"We got about half of it."
Cooper said that a city building inspector declared the premises unsafe. A hydraulic jack was found holding up a corner of the structure's roof.
"There's children on the premises, too. That's what we're concerned about," Kingman Police Lt. Dean Brice said.
Neighbors, apparently grateful for the city's action (one house was for sale across the street), baked cookies for the officers and clean up crews.
Cooper said the city would be looking for hazardous sites and other property violations in the next year in preparation for a bad fire season.
Leg said Lane was given three citations: junk and an abandoned vehicle, junk and debris, and operating a wrecking yard in a residential area.
Cooper said the city would try to collect on the costs of the cleanup, which Leg estimated to be around $9,000, by ordering restitution from Lane.
Officers said the city is currently looking into 14 potential abatements.
Leg said that the city is running at about 90 percent of compliance with abatement orders, or residents who clean up once given a warning.