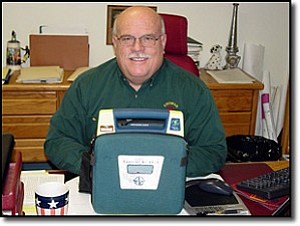 Originally Published: January 22, 2006 6 p.m.
KINGMAN – In emergency medical situations, every second counts. Sometimes first-responders closest to the emergency don't have the necessary equipment to extend those crucial seconds into a longer lifetime.
But with the purchase of eight automatic external defibrillators, the Kingman Fire Department can put the power of saving lives in the hands of city employees.
The department purchased the AEDs with a nearly $50,000 grant from the Arizona Department of Health Services. A few will be placed in city offices where people congregate the most, Capt. Bill Johnston said.
The KFD will keep one as a backup and place four others in staff vehicles that don't already have them.
The devices require little training or medical expertise. Voice prompts tell the user how to properly administer a shock.
"If we get a medical call and if there is one of these in the area, there is a good potential someone there can shock the heart quicker before anyone else gets there," Johnston said.
Johnston added that the Kingman Fire Department will train city staff at the City Complex, Parks & Recreation Department and Cerbat Cliffs Golf Course on how to use the AED and in CPR.
"(The AED) is pretty simple, but to be proficient, you need training on CPR, too," said KPD Fire Chief Chuck Osterman.
The new machines won't be easily accessible by the general public, but the department offers free CPR training to everyone as well as classes on using AEDs for those that have their own.
To sign up for a CPR class, call the Kingman Fire Department at 753-2891.