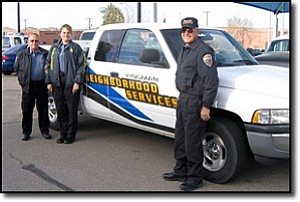 Originally Published: January 26, 2006 6 p.m.
KINGMAN – Many city residents may know that those old cars and antiques and dilapidated buildings on their property are an eyesore. But they may not be aware they are also violating city ordinances.
Since last August, the Kingman Police Department has stepped up enforcement of city building and health codes, which has become more of an educational force than a punitive one.
Chief Bob DeVries said code enforcement was too lax, and with Kingman's explosive growth over the past five years, the Neighborhood Services program needed to become proactive in abatement issues.
The Neighborhood Services program is one of DeVries' central projects to improve the quality of life in Kingman. Three Neighborhood Services uniformed but unsworn officers work with homeowners and businesses to improve the look of city streets.
DeVries said removing unsightly junk has a trickle-down effect on crime. In other words, a clean neighborhood is a safe neighborhood.
"We want people to take pride in their community," he said.
The KPD wants to be a good neighbor, too. Despite carrying a caseload of around 150 open projects, the Neighborhood Services officers have issued only a few citations and fines. NSO John Legg said most people take care of the problems within 30 days. They just didn't know they were violating city ordinances.
"People generally want to comply," he said. "Once people become aware, they comply about 99 percent of the time."
Some residences have become mini-junkyards that require more than the 30-day allotment to abate the property. As long as residents show progress, the Neighborhood Services officers won't fine them.
"We'd rather have them do that (show progress) than spend city money," NSO Jerry Mitchell said.
The program not only benefits the neighbors living around an abated property, but it also saves the city from paying for the cleanup. Towing companies charge the city $100 for every abandoned vehicle that no longer has a valid registration unless the vehicle has resale value.
From September through December 2005, the KPD had 177 abandoned vehicles removed.
"The previous year, there were none," Mitchell said.
Earlier this month, the city was forced to remove more than 70 tons of debris and vehicles from a property on Karen Avenue. For major projects like that one, the city places a lien on the property, Legg said.
The most often recovered items in Kingman are shopping carts. NSO Theresa Jones estimated they have impounded more than 300 carts from all around the city except from where they belong.
Signs are another issue. A-frame signs are illegal in Kingman, Legg said, and garage sale signs must be taken down by Monday. For now, they're letting those infractions slide while focusing on more important issues, Legg said.
The Neighborhood Services officers work with the city Fire, Planning & Zoning and Public Works departments and the City Attorney's Office and magistrate to add another level of enforcement.
"Through us all working together, we present a united effort to all these people," Mitchell said.
Jones is also helping form a committee through the KPD to address the possibility of enabling the city court to sentence transients found guilty of trespassing to collect garbage from open fields and public lands as a form of community service.
"The goal is to make a difference," she said. "Many of them can't afford to pay the fines, but this way we can get them out to make a difference."
The new patrol also relieves the burden on other officers, freeing them up to focus on more critical crime prevention.
The officers can see the difference the program has made with every fire and safety hazard removed. So can everyone else.
"It does wonderful things for the neighborhood," Jones said. "They (neighbors) are happy to see the change."