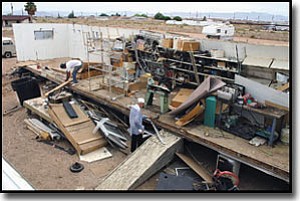 Originally Published: July 20, 2006 6 p.m.
KINGMAN - A mobile home and six RVs at Perry Trotter's business on Airway Avenue were damaged by strong winds during a storm Sunday evening.
The scene was still a mess Wednesday morning. The roof of Trotter's RV Supplies and Services' 12x60-foot warehouse was blown off by the gusts and smashed onto RVs parked on the property for maintenance or storage. Some tools inside the warehouse were also blown out by the strong winds and scattered around the property.
A large part of the roof smashed into the top of one RV, and other smaller parts hit the sides of five other RVs.
The total loss, according to Trotter, will be at least $40,000. That figure might rise if other damages are found inside RVs, Trotter said.
"It's really frustrating. You have no way to prepare for such a natural disaster," Trotter said.
Trotter called the RV's owners on Monday, briefing them about damages and asking them to contact their insurance companies. "It's not something pleasant, but (since) it happened, we have to face it," Trotter said.
"This was caused by something nobody can really control, (so) I don't think it will be fair for me to cover all the (repair) cost," Trotter said.
There were about 30 other RVs parked on the property, but they escaped damage.
Trotter said the warehouse had been in use for a couple of years. Trotter said heard that an RV and several cars on nearby properties were also damaged to different degrees.
Right now, Trotter is focused on cleaning up the debris and restoring the business.
He estimates that it will take six to eight weeks to clean the warehouse and repair the damaged RVs.
Trotter said this accident will not impact his business in the long run. Trotter's RV Supplies and Services has been one of the most prosperous businesses in town, he said, and he expects success to continue.
One thing he will probably keep in mind, though, is "never think weather is a non-factor in your business," Trotter said.