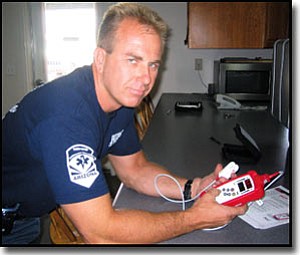 Originally Published: June 16, 2006 6 p.m.
KINGMAN – Hualapai Valley Fire Department has equipped its Emergency Medical Service team with high-tech detectors that can accurately measure carbon monoxide and methemoglobin percent levels in the blood noninvasively.
In case someone inhales too much carbon monoxide, quick diagnoses through the device could save the patient hours of symptom identification time, which could mean the difference between life or death, said Ken McLaughlin of the HVFD.
Usually, a person who is suspected of inhaling too much carbon monoxide will have to take a blood test before doctors decide what kinds of treatment to give. The delay sometimes can kill a patient.
The new devices, purchased by HVFD at about $2,500 each, could detect the level of carbon monoxide in one's body just by connecting the device to his or her finger, and no blood test is necessary. In seconds, the meter will show whether the person has inhaled excessive carbon monoxide.
Several accidents happened in the HVFD fire district last winter season pushed the department to adopt active measures to update their medical equipment, McLaughlin said.
Some open fires, such as stoves inside closed buildings or manufactured houses, could produce large amounts of carbon monoxide, a gas that is highly poisonous but hard to detect because its colorless, odorless and tasteless.
The high density of the gas could cause the loss of consciousness then death.
Some income-challenged families in the HVFD fire district had been found to be vulnerable to the gas because of the use of open fires in their houses, McLaughlin said.
"With the device, we will definitely offer better service to our clients and help them get effective treatment in a timely manner," he said.
The device will also help detect carbon monoxide inhalation to firefighters, who are usually exposed to the gas by fighting fires in a smoky environment.
"When we have severe carbon monoxide exposure, we don't have to sit here and figure out what is going on. We have a real indicator here and we know what happened before we go to a hospital.
"It's brand new technology and it's going to make a difference to the people living in the community," McLaughlin said.
The adoption of advanced medical devices is nothing unusual for HVFD, which has been aggressively searching for useful equipment to upgrade its first aid ability.
"Whenever we find something, we jump on (to it)," McLaughlin said. In Mohave County, he believed HVFD is the first and probably the only department in the area to introduce the carbon monoxide detection device into firefighting service.