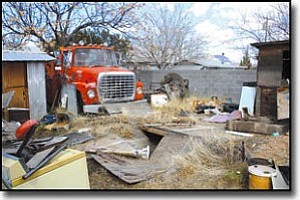 Originally Published: March 9, 2006 6 p.m.
KINGMAN – After five months of non-compliance by the homeowner, the Kingman Police Department's Neighborhood Services unit forced the cleanup of a home on the city's east side that was overrun with garbage.
An abatement team removed four inoperable vehicles and a trailer, broken furniture, auto parts, glass panes and various metal materials on Wednesday from a vacant house in the 2300 block of Phoenix Avenue.
"The accumulation of debris was so great, there was no room to walk around the exterior," Neighborhood Services officer Theresa Jones said.
The department gave the property owner a 30-day notice in November after complaints from the neighbors alerted police to the health hazards on site. Police issued a final notice on Feb. 16, Jones said. She added that the owner did remove some of the garbage but Jones noticed new debris had been added since November.
Jones said the unit's search warrant only allowed them to clean up the exterior of the house but that the structure was deemed unsafe for occupation due to violations of fire codes.
"We will board up the outside windows to make them safe for the neighborhood," she said.
Jones did not say who owned the property, only that the owner does not live in Arizona. The city placed a lien on the property to cover the cost of the abatement. As crews hauled the garbage away, an unidentified man told the officers that he was interested in buying the property and would tear down the house.