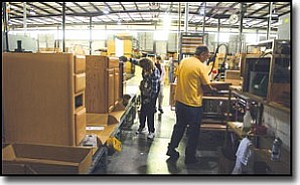 Originally Published: March 10, 2006 6 p.m.
KINGMAN – American Woodmark Corporation, a leading supplier of cabinetry to the new home construction and remodeling industries, unveiled a plan Thursday to create 70 new jobs at its Kingman manufacturing facility.
To fill the positions created by the reorganized infrastructure in the facility, the plant will host a community job fair from noon to 8 p.m. March 17 and from 10 a.m. to 5 p.m. March 18 at the Mohave County Fairgrounds.
"The revitalized Kingman plant team is growing with exciting new opportunities," said Mark Seals, the plant manager. "We are eager to find dedicated, hard-working talent to join our team and encourage all members of the community to apply."
At the fair, interested individuals can obtain detailed job descriptions, a company profile and complete an employment application. Completed applications will be immediately reviewed, and applicants will have an opportunity to speak with an American Woodmark employee during an on-site interview.
The Kingman plant is hiring for positions in the first and second daily shifts, and entry-level wages will start at about $8.50 an hour, Seals said. Employee's wages will go up following the improvement of their working skills.
There is no special skill or education requirement for applicants, and all new employees will later receive on-site training at the factory. Seals believes that applicants who see the opportunity as a start to a great career rather than just a new job would definitely have better chances to be hired. He hopes new employees will stay and grow together with the company for years to come.
The company offers employees benefit packages, which include comprehensive insurance plans, performance-based reviews, incentive bonus plans, profit sharing, paid vacation and a lot more. "We are one of the few American companies that still believe good pensions will pay for the growth," Seals said. Generally, the company covers more than 80 percent of employee's health insurance, though the real number may vary according to the types of plans employees choose.
Also on Thursday, American Woodmark donated the 750,000th kitchen built in the Kingman plant to the Housing America Corp, a non-profit organization whose mission is dedicated to improving the living conditions of low- and moderate-income individuals and families in Yuma and Mohave counties.
Since May 1996, American Woodmark has contributed more than $110,000 to community organizations in the Kingman area through the company's foundation.
American Woodmark Corporation, located in Winchester, Va., is the largest manufacturer of kitchen and bath cabinets in the United States. The company currently operates 15 manufacturing facilities across the country.