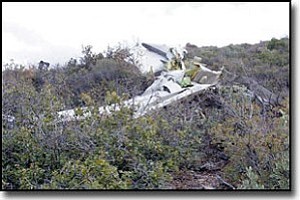 Originally Published: March 21, 2006 6 p.m.
WIKIEUP – Search and rescue personnel found the wreckage Monday afternoon of a single-engine Beech Bonanza 33 aircraft reported missing on a flight from Henderson, Nev., to Scottsdale.
Found dead inside the fixed-wing aircraft was John Kenneth Orms, 64, of Scottsdale, the pilot, and passenger Russell Hunter Farb, 59, of Tucson, Mohave County Sheriff's Office spokeswoman Trish Carter said.
About 7:30 a.m., the MCSO received a call from a witness stating he had seen and heard a plane crash east of Wikieup.
The call led to an all-day search involving MCSO Search and Rescue units, three Arizona Department of Public Safety air rescue helicopters (from Kingman, Phoenix and Flagstaff), plus personnel from the Civil Air Patrol, Arizona Department of Game and Fish, and Bureau of Land Management.
The plane was believed to have taken off Sunday evening in Henderson.
Family members contacted the Federal Aviation Administration and reported there were two people on board, according to FAA spokesperson Mike Fergus.
Low clouds and snow hindered search efforts.
"There was snow off-and-on throughout the day, and low clouds prevented air search by fixed-wing aircraft," Carter said. "Ground units had to cope with tough terrain made more difficult by snow, sleet and muddy roads.
"They also extended their search east of the original area toward Bagdad."
The Bonanza is a six-piston single-engine aircraft capable of carrying a pilot plus five passengers. It was located around 4:30 p.m. in the Aquarius Mountains about 25 miles northeast of Wikieup.
Bodies of the victims were removed and the scene secured to await the arrival today of investigators from the National Transportation and Safety Board and Federal Aviation Administration. MCSO personnel will assist them, Carter said.