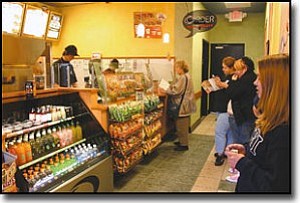 Originally Published: March 22, 2006 6 p.m.
KINGMAN – People with a craving for toasted subs now have another option – a new Quiznos Sub has quietly opened in downtown Kingman.
Nicholaus F. Baker, the owner, did not advertise his restaurant because he wanted to use the first month or two to train his employees on site, he said. A grand opening is planned for late April or early May when the training is complete.
As always, good products sell themselves. There has been a steady stream of customers at the restaurant from day one, and at some peak hours people have to wait to get a seat.
The restaurant sits in the corner of a large convenience store in the Chevron station located at 777 W. Beale St., and offers only 15 seats. It can get crowded as soon as business begins to pick up during dining hours.
Baker said he had reached an agreement with the store's owner to expand the restaurant, which will add about 14 to 16 seats.
"It will definitely make everybody here feel more comfortable," he said.
Baker has long sought to open a Quiznos restaurant in town, and this location downtown is by far the least expensive. Though he strongly believes in the quality of Quiznos, he also needs proof that customers love the food, too.
Being in business for three weeks, he got all the answers. "Everyone is kind of excited we have a Quiznos here in town … and the same faces come back almost every day," he said. Besides zealous local customers, highway travelers are another steady revenue source for the restaurant.
Encouraged by the business's early success, Baker is looking to open another Quiznos in the city. The new location will most likely be along Stockton Hill Road or Hualapai Mountain Road, where there is much more traffic, he said. The new restaurant will have more space, and hours of operation will be extended.
Investing in fast-food business in town needs a little courage, and Baker said his courage came from the great taste of the Quiznos subs.
"Just try one. That is the answer (I give) to everyone who asked 'Why Quiznos,'" he said. All the ingredients in Quiznos are prepared fresh daily, and the subs don't go into the oven until they are ordered.
Quiznos' strong franchise support is another reason that convinced Baker to join the corporate family. Quiznos offers all the education and training for opening a new franchise, and the compensation plan is excellent, Baker said. As the owner and manager, he has received professional training in Las Vegas for three weeks, a week of training in Denver, and some temporary training in Quiznos restaurants in nearby stores. The training did not just equip him with skills, he said. It also showed him how a successful business operates.
One area where Baker is having trouble is in hiring quality employees and keeping them on the payroll.
"Someone quits everyday, and someone comes everyday," Baker said.
Baker understands it's a citywide problem and that he just needs a little patience to get his business going.
Quiznos is open from 10:30 a.m. to 9 p.m. Monday through Saturday and 11 a.m. to 8 p.m. on Sundays.