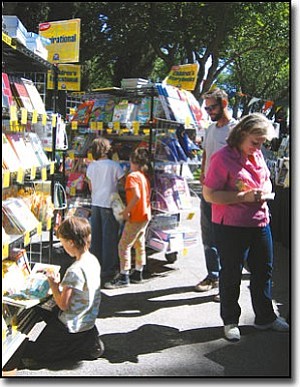 Originally Published: May 1, 2006 6 p.m.
KINGMAN – The weather could not have been better on Saturday when the Kingman Area Books Are Magic Festival took place at Metcalfe Park.
Food, books, authors and music were all there according to Robert Shupe, chair of the steering committee of the book fair.
"We had at least 1,000 people show up this morning and early afternoon. I think it might be the largest gathering (in the park) for the year," Shupe said.
Early responses from visitors to the book fair were overwhelmingly positive; everyone said they enjoyed the books, the shows and the easy atmosphere, Shupe said.
The huge turnout definitely helped book sales.
Book vendors never got a moment of rest. During peak hours, they were busy collecting money, distributing gifts and answering questions.
"It's really a heck of a lot of people; you cannot even walk around easily (at peak hours)," said Sue MacMichael, a book vendor. Even though her booth was among the smallest ones at the fair, she still sold about 30 books.
Being a returning vendor to the festival, MacMichael thought this festival was obviously much more popular than previous ones. "Maybe we have more school-aged kids in town, or maybe it's better promoted, it feels like everyone is very excited about the fair this year and ready to buy books," she said.
Books at the largest booth hosted by local school libraries were also going quickly. Erma Allen, a school librarian, said her booth sold at least 250 books on Saturday. "It's really a lot of fun to see parents pick up books for their kids." Allen said.
David and Linda Marie Despain from Golden Valley were checking out books such as "100 Years of Classic Music" while their three kids concentrated on books in the cartoon sections.
"They can choose books they like, but at the same time, they have to read books they have to read," said Linda Marie. Her husband's top responsibility was to carry all the books everyone had chosen.
Compared with services from local bookstores, Linda Marie said the most appealing feature of the festival is the huge discount.
Some books were on sale with a 50- to 70-percent discount from cover prices.
"For some books (that) you have to buy sooner or later, you'd better buy it here," she said.