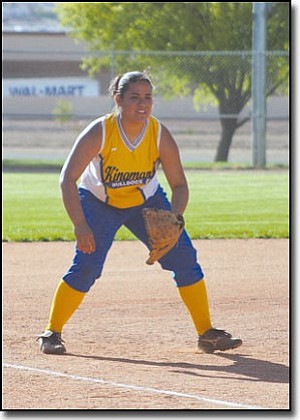 Originally Published: May 2, 2006 6 p.m.
KINGMAN – At some point in her life, Sarah Mayo will sit down with her family and friends, show off the photos she took at some of Ireland's most famous castles and tell them all about what it's like to backpack across Europe.
That day won't happen tomorrow, next week or probably even in the next year, but because it's the next goal on her list, she can practically envision herself on a plane flying across the Atlantic Ocean.
While her travel goals sit in the on-deck circle, Mayo is making her way to the batter's box to accomplish her first passion – playing college softball. "Ever since we had to sit down and write out our long-term goals on a piece of paper in fourth grade, that was No. 1 on the list," said Mayo, who plans on playing for Pima Community College next year. "Personally, I like Tucson and I love Pima's coach (Stacy Iveson). She knows how to have fun, but can get serious when that time comes."
A self-described big kid who "likes being outside and getting dirty" and started a tradition of pulling an April Fools' Day prank on Kingman High softball coach Salina Fogg, Mayo's fun and positive attitude was called on many times this year as the captain of a team that struggled through a 10-16 season.
"I've been playing with these girls for a long time and it's always been fun playing with them," Mayo said. "I always enjoyed going to practice every day, the bus trips, being in the dugout, just to hang out with the girls even though we weren't winning. I just reminded myself that I need to have fun, and that's what kept me going the whole time."
Fogg said that although Mayo has not always been a starter in her three years on the varsity team, she has always been a leader with her actions. Early this season, Mayo was asked to leave her spot at third base to fill in as a catcher for a game, a position she had not played since her freshman year.
"The day-to-day activities are the things that have made an impression on me," Fogg said. "She makes practices lively and fun. Her 'I just want to play ball' attitude every day is refreshing. I have no doubt that she will be successful at the collegiate level with her skills and attitude."
Mayo said in spite of her team's lackluster results, there are still positive things to be taken from this season for her to build on as she makes the jump to the college level.
"Being a senior, I knew I had to step up my game a lot more not only on the field but off the field and citizenship-wise," she said. "I personally think I stepped up in a lot of areas and came through under pressure."
The proof lies in the statistics, as Mayo led Kingman in 2006 in batting average (.489), runs (11), singles (16), triples (4), slugging percentage (.711) and on-base percentage (.521) in conference play. She was also second on the team in doubles and hit one of the team's first home runs of the year.
"I focused on my batting more this year because I tend to get in slumps," she said. "But the last part of the season, I don't think I had any strikeouts and my on-base percentage was pretty high. I focused on being disciplined at the plate."
So as another offseason begins and Mayo sets new goals to further develop her game, it's a safe bet that she'll take the field as a Pima Aztec better than her last game as a Kingman Bulldog.
"Sarah has always had dreams and goals, and she does not back down from what she wants to do," said Julie McCoy, Mayo's mother.
"She doesn't have a scholarship, but it's something she's working on and she will do whatever she has to to accomplish her goals."