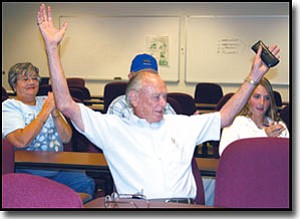 Originally Published: May 17, 2006 6:54 p.m.
KINGMAN – Voters swept former mayor Les Byram back into the position he had held for eight years with an 18-percent margin over Monica Gates. The contender distanced himself from the incumbent mayor by 775 votes unofficially as of Tuesday night.
Following the announcement at 8 p.m., the audience in the Mohave County Administration Building – mostly Byram's supporters – sat silent as they processed the numbers and more importantly, what they meant. After several quiet seconds, the celebration began.
"I'm extremely grateful to the citizens of Kingman and the trust they have placed in me," Byram said. "I'm also just as pleased that we will have a wonderful Council to work with and we will work cooperatively to meet this head on – the problems of this community."
"Cooperation and challenges" was the mantra of the night. Council Member Ray Lyons retained his seat winning by a 22-percent margin over his fellow incumbent statesman, Jim Baker. Lyons echoed the sentiment that the Council, with its three new members, would collectively overcome the challenges facing the growing city.
"I think they're coming in with a pretty good idea what needs to be done. They've done their homework. I think they know what needs to be done for Kingman's vision of the future," he said. "I think it will all come together."
In March, voters elected Kerry Deering and Janet Watson to Council seats but neither Lyons or Baker collected the required number of votes forcing Tuesday's runoff election.
Lyons said he was overwhelmed by the quantity of votes he received. "I want to thank everyone that supported me all the way through both the primary and general election," he said.
Baker said he was looking forward to a break from 16 years of public service between the Council and school board.
"I wish the new members well and that they have all of Kingman in mind when making decisions. There's going to be some tough decisions in the next couple years," he said.
A total of 4,313 voters turned out for the general election versus 3,945 for the March 14 primary. Tuesday's voter turnout was 34 percent.
Gates needed to close a nearly 19-percent disparity following the primary election.
Even with the endorsement of her opponent in the primary, Terry Thomson, she could not close the gap.
Gates knocked her opponent out of office two years ago, but on Tuesday, round two went to Byram. The pair traded "punches" along the campaign trail over whose vision of Kingman's future was brighter.
"I think the people are very disturbed about the direction the city was going," Byram said. "That they feel the quality of life of this community was being endangered, that they had no desire for this to become a bedroom community for Las Vegas, and I strongly feel the same way."
Gates did not return phone calls seeking comment on the election outcome.
Byram said he believes that more voters swung to his side following the primary election after Gates accepted about $2,000 in campaign donations from Las Vegas developers who have housing projects under way in Kingman.
"I don't think there's any doubt about it. The people saw the Las Vegas developers were contributing heavily to her campaign and that just further disturbed them as to what influence they would have with the leadership that they were providing," Byram said.
As part of his campaign, Byram said he was unhappy with the turnover rate of city employees in the past two years. He said he would meet with the heads of the departments soon.
"I want to see what they have to say, what their role has been in some of the decisions I think were not in the best interest of Kingman," he said. "I certainly will give them every opportunity to work with us, but that's up to them."
Councilman elect Kerry Deering congratulated Byram on his victory.
"I'm ecstatic that Mr. Byram is our new mayor. I think that anyone that serves in a public position including Monica Gates and Phil Moon and the other Council members that are going off – hats off to them. They served. They got involved and I look forward to working with Mayor Byram and the Council," he said.